Yellen Fails to Entice Gold Bugs as ETPs Lose $1.5 Billion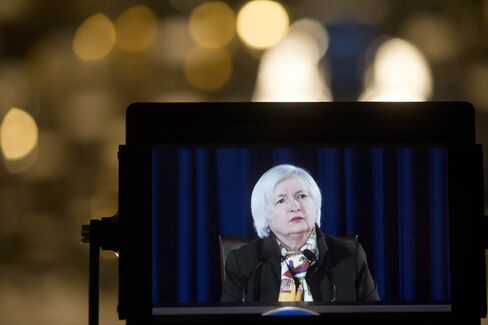 Janet Yellen's signal that she's not in a hurry to raise U.S. interest rates failed to persuade investors to come back to gold.
Instead, they pulled out $1.5 billion from U.S. exchange-traded products backed by precious metals last month, the most since December 2013, data compiled by Bloomberg show. While Yellen did spark a gold rally in mid-March, the gains fizzled and prices ended the quarter with a third straight decline. Palladium is nearing a bear market, while platinum posted a second monthly drop.
The problem for precious metals is that the U.S. economy is clipping along fast enough for Fed Chair Yellen to say she still expects higher rates this year, even if they rise at a slower pace than some economists had expected. That outlook is driving investors to favor assets with better yield prospects, such as equities that are trading near record highs, especially as U.S. inflation stays low.
"There are enough signs that the U.S. is growing, and also the equity market will continue to attract money," said Kevin Mahn, the Parsippany, New Jersey-based president who oversees $150 million at Hennion & Walsh Asset Management. "The rate hike is coming for sure, so unless something changes drastically, people don't see the need to invest in gold."
Gold for immediate delivery, which dropped 0.1 percent in the three months ended Tuesday, traded 1.6 percent higher at $1,202.17 an ounce at 11:42 a.m. New York time on Wednesday.
Rally Fizzles
The metal posted a seven-session rally starting March 18, when Yellen and her central-bank colleagues forecast lower rates by year-end than they had estimated in December. On March 27, the Fed Chair reiterated she expects rates to be raised this year, adding that subsequent increases will be gradual without following a predictable path. Borrowing costs have been near zero since 2008.
There are some analysts who say that gold can still rise in 2015 even as the Fed raises interest rates. Bullion will trade at $1,320 in the fourth quarter as investors bet that after an initial increase in borrowing costs, further rises will be gradual, Standard Chartered Plc said in a report Monday.
"The market seems to be way overestimating how fast the Fed will exit," said Ralph Aldis, a San Antonio-based money manager at U.S. Global Investors, which oversees $927 million. "At low interest-rate levels, gold will stay supported, and the long-term buyers will increase positions."
Hedge funds, though, are still losing interest. Money managers cut their gold net-long position to the lowest since December 2013 in the week ended March 24, U.S. government data show. Short holdings rose to the highest since the data begins in 2006.
Low Inflation
A core measure of consumer prices, which excludes food and fuel, rose 1.4 percent in February from a year earlier, Commerce Department figures showed Monday. The gauge is the Fed's preferred measure of inflation and hasn't been above policy makers' 2 percent goal since March 2012. Gold has historically been used as a hedge against higher consumer prices.
The Bloomberg Dollar Spot Index, a gauge of the greenback against 10 currencies, rose in March for a ninth straight month, the longest run since the data begins in 2005. Seasonal festivals help to buoy Asian demand for physical metal during the first quarter, and there are no historical gold-buying holidays in the three months ended in June, according to James Steel, an analyst at HSBC Securities (USA) Inc. in New York.
"The battle with the dollar has been tough for gold," said Dan Denbow, a portfolio manager at the $900 million USAA Precious Metals & Minerals Fund in San Antonio. "The second quarter is not a strong period, so that should also add to the headwinds."
Before it's here, it's on the Bloomberg Terminal.
LEARN MORE