Obama's New Climate Change Plan in Two Charts
The president sends the UN a list of things he wants—and Republicans don't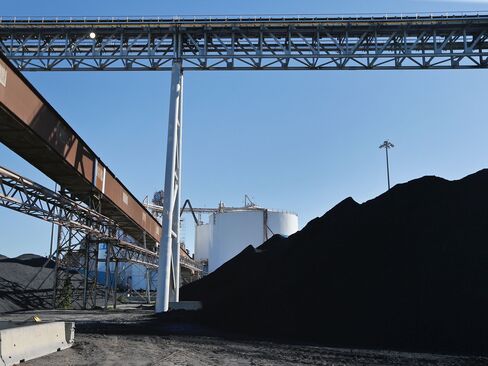 The White House just pitched to the United Nations a detailed statement of its goals for cutting climate pollution and how it expects to meet them.
Here's what you need to know.
By the end of the day, developed countries were supposed to issue reports on all their climate-friendly activities—what the bureaucrats call an "intended nationally designated contribution." Just six governments have submitted plans so far: the U.S., Russia, the EU, Switzerland, Mexico, and Norway. Ideally, all the policies together will add up to an agreement at talks in Paris at the end of the year to keep global warming below 2 degrees Celsius, the UN's goal.
In fact, the talks are likely to come nowhere near that figure, even with renewed pledges from China and the U.S., the world's top emitters. If you're wondering how world governments are going to fix the climate when they can't even submit their plans to fix it on time, you're probably on to something.
The gist
The U.S. submission reframes the White House's existing policy within a new top-line goal that President Barack Obama announced in November in Beijing: to cut, by 2025, carbon and other earth-warming emissions by at least 26 percent below 2005 levels. This new goal, according to the White House, is "a substantial acceleration of the current pace of greenhouse gas emission reductions," the administration said in a statement.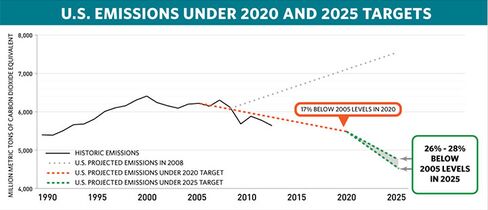 The U.S. statement is short and reads with all the intensity and passion of three pages of checked boxes. The most telling statement is its one-line answer on whether there will be any "use of markets" in speeding along pollution cuts: "At this time the United States does not intend to utilize international market mechanisms to implement its 2025 target."
Read: Cap-and-trade died on the floor of the Senate in 2010, and it's not coming back soon.
The administration also lists the major initiatives it expects will drive the economy toward its climate goal.
The big picture
Think tank analysts spend their days trying to figure out what policy ideas might mean in real life. It takes time, which means researchers haven't crunched numbers yet on the Obama 26-percent-by-2025 plan.
Much work was done, though, on the administration's first-term target: to cut CO2 by at least 17 percent by 2020. The World Resources Institute in 2013 projected what was needed to meet that goal. Here's a graphic from that report showing where U.S. climate pollution comes from—and consequently, what needs to be cut. Below it (it's huge!), is a walk through the White House's major initiatives to meet the goal.
The graphic shows how U.S. emissions might fare in 2020 in each of four scenarios (left to right): Business as Usual, Lackluster Policy, Middle-of-the-Road Policy, and Go-Getter Policy. Kevin Kennedy, deputy director of the U.S. Climate Initiative at WRI, says the White House has charted a course that falls somewhere between Middle-of-the-Road and Go-Getter.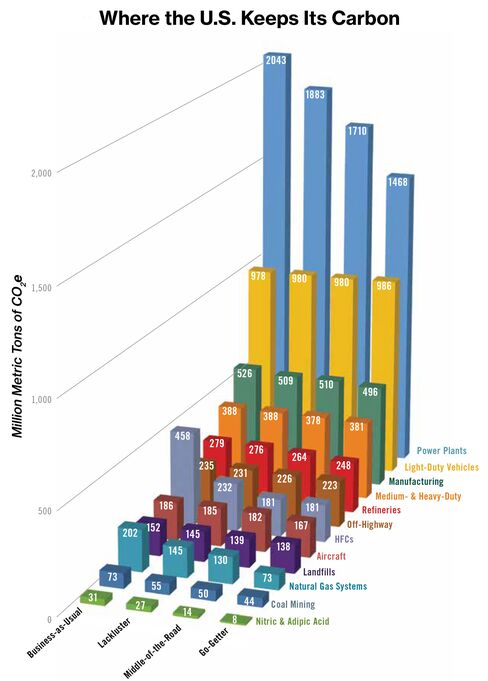 Obama's plan of attack
When Obama threatened early in his first term that his administration would regulate if Congress didn't legislate on climate change, he wasn't kidding. Six years in, here's where his policy stands. It was rebranded in 2013 as a "Climate Action Plan":
Power Plants (light blue): The most dramatic cuts will come from power production. This summer, the administration has said, it will finalize two rules that limit the amount of carbon dioxide permitted from new and old power plants. An additional rule caps mercury emissions from plants; the Mercury and Air Toxics Standards address more conventional air pollution. In so doing, the rules will knock out a lot of CO2-producing coal plants—if the Supreme Court upholds them.
Cars (yellow): In Obama's first term, the Environmental Protection Agency and the Department of Transportation finalized aggressive auto and light-truck fuel efficiency standards, which will ratchet up to 54.5 miles per gallon by 2025. Better fuel economy for trucks and heavy-duty vehicles (orange, above) are expected after the 2018 model year.
Refrigeration gases (dark periwinkle): Hydrofluorocarbons (HFCs) are much more potent warming gases than are carbon dioxide and even methane, although the latter two are much more voluminous. The EPA has approved alternatives, and the State Department is pursuing international agreements or partnerships to address their use.
Methane: Methane is the second-most-problematic greenhouse gas, after carbon dioxide. This summer, the administration is expected to issue its first regulations to cut methane emissions from industrial sources. A previous effort (purple) pushes landfills to capture waste methane.
With many leading Republicans still hell-bent on saying that true things about climate science aren't true, the question facing politicians in the years ahead may be: How much of it will last?
For more, read this QuickTake: Climate Change
Before it's here, it's on the Bloomberg Terminal.
LEARN MORE