Kiwi Rally Seen Fueling Wheeler Intervention to Thwart Strength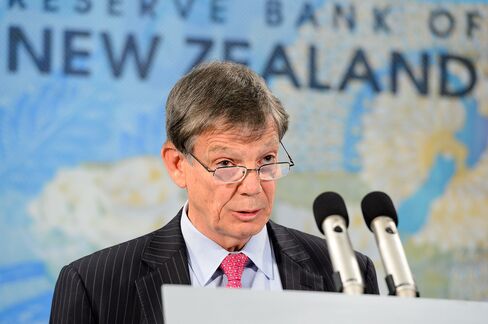 New Zealand's dollar has strengthened so much on central bank Governor Graeme Wheeler's reluctance to join the global wave of monetary easing that analysts are speculating he's trying to weaken the kiwi again by selling it.
The Reserve Bank of New Zealand may have intervened in March after the currency rose to levels that prompted policy makers to sell a net NZ$521 million ($389 million) in August, according to ABN Amro Group NV and Morgan Stanley. The kiwi has strengthened versus all its developed-nation peers except the greenback and Swiss franc in the past six months and advanced 3 percent on a trade-weighted basis.
Wheeler has made clear his discomfort with the currency's appreciation -- and he's also stated his reticence about following other central banks in cutting borrowing costs because that would add fuel to a housing boom. New Zealand's benchmark rate of 3.5 percent is more than a percentage point higher than any other industrialized nation's and has attracted investors to the kiwi, which is now the most overvalued currency among developed economies.
"They have no choice but to resort to intervention to weaken the exchange rate," Roy Teo, a strategist at ABN Amro in Singapore, said by phone on Tuesday. "If they were to cut interest rates, then it runs the risk of a hotter domestic economy and housing market."
Extreme Levels
The central bank sold the kiwi in August, when the trade-weighted index was between 78 and 80. The gauge climbed to 80.01 on March 23 as the New Zealand dollar closed above 76 U.S. cents for the first time in two months.
"We suspect the RBNZ came in to weaken the currency when the kiwi was above 76 cents last week," Teo said. "Perhaps they are waiting for more extreme levels before they intervene more aggressively."
The currency bought 74.53 cents as of 8:35 a.m. in London and the trade-weighted index was at 78.29.
Wheeler kept the official cash rate at 3.5 percent on March 12, and said the "unjustifiably high" local dollar risked hurting the economy, one of the criteria the central bank has set for currency intervention.
The Reserve Bank may also have intervened on March 5 when the trade-weighted index rose as high as 79.23, Morgan Stanley analysts led by Geoffrey Kendrick, the firm's Hong Kong-based head of Asian foreign-exchange and interest-rate strategy, wrote in a report that day. The price action in August suggested the central bank mostly sold the kiwi on Aug. 25 when the trade-weighted index opened at 79.29, the strategists wrote.
Wheeler's Challenge
"Given in the past they've intervened when kiwi's been strong, the probability is increasing," Kendrick said by phone on Tuesday.
The RBNZ has a policy of not commenting on intervention outside of official announcements.
Wheeler has been struggling to hold down the currency as more than two dozen central banks, including those in Australia, Canada and Europe, have eased policy this year.
The prospect of further rate cuts in Australia has sent the Aussie sliding toward parity with the kiwi, making New Zealand's exports to its neighbor less competitive. Australia's dollar fell to NZ$1.0157 on Monday, the least since the two currencies were allowed to float freely in the 1980s.
Wrong Conditions
Not all analysts see Wheeler intervening. One of the RBNZ's criteria for such a move is that market conditions must be opportune and allow it to work, said Sam Tuck, a senior currency strategist at ANZ Bank New Zealand Ltd. in Auckland.
"I don't think, at the moment, the currency passes that muster," he said. Factors outside of the country -- including global monetary easing -- may keep the currency elevated, Tuck said.
Yield-seeking investors have been attracted to New Zealand because its cash rate is higher than all but two of the 34 members of the Organisation for Economic Cooperation and Development. Foreign holdings of New Zealand dollar-denominated debt increased by NZ$2 billion in the first two months of this year to a record NZ$58.5 billion, said David Croy, a senior rates strategist at ANZ Bank New Zealand in Wellington.
Only three of 15 economists surveyed by Bloomberg on March 6 predicted the central bank will lower borrowing costs this year. There's a better than 60 percent chance of a cut by December, swaps data compiled by Bloomberg show.
'Currency Discomfort'
When deciding whether to intervene, the central bank will take into account the kiwi's level on a trade-weighted basis as well as inflation and economic activity, Sean Keane, an Auckland-based analyst at Triple T Consulting, said by phone Tuesday.
"The point of currency discomfort is relative and constantly changing," he said.
The RBNZ forecasts annual economic growth will exceed 3 percent for the next two years, and inflation will climb to the 2 percent midpoint of its target range by the second half of 2017.
The currency's strength will remain a major focus for the central bank, according to ANZ's Tuck.
"If the TWI got back above 80, that would be an area where it would prompt the RBNZ to talk about the currency again extensively," he said.
Before it's here, it's on the Bloomberg Terminal.
LEARN MORE