Draghi's Helping Hand Lifts Britain's Asset-Backed Debt Market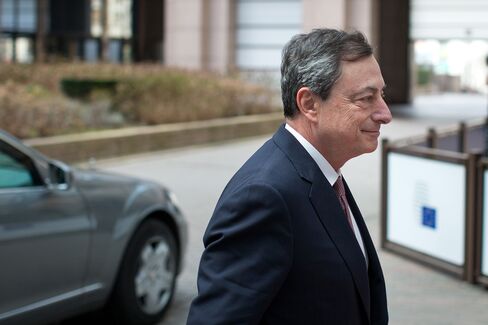 Mario Draghi's bid to revive Europe's asset-backed securities market is having the desired effect in the wrong place: Britain.
Sales of notes secured by U.K. collateral from mortgages to credit card debt totaled 8.3 billion pounds ($12.3 billion) in the first three months of the year, the busiest quarter since the end of June 2012, according to UniCredit SpA. Euro-area issuers placed 7.7 billion euros ($8.3 billion) of securities in the same period, the least since the first three months of last year.
Draghi's bond-purchase program is suppressing yields in the euro area, inadvertently fueling investor demand for U.K. securities. The European Central Bank president is seeking to breath life into the region's market for asset-backed debt, which contracted more than 40 percent since 2010, because it allows banks to transfer risks to investors and encourages new lending to companies.
"The U.K. market is benefiting from the hunt for assets," said Manuel Trojovsky, structured credit analyst at UniCredit in Munich. "There's a supply squeeze in European ABS, which has been aggravated by the ECB entering the market and triggering a rally."
Largest Market
GMAC U.K. Plc, a subsidiary of General Motors Co., sold 498.8 million pounds of notes backed by U.K. auto loans in March, while Lloyds Banking Group Plc securitized 1 billion pounds of credit card debt. Nationwide Building Society and Banco Santander SA sold the only bonds secured by high-quality U.K. mortgages this year, according to Morgan Stanley.
The U.K.'s asset-backed debt market is Europe's largest at 193 billion euros and is excluded from Draghi's program, which is focused exclusively on notes denominated in euros and backed by euro-area collateral. The Frankfurt-based central bank has acquired 4.6 billion euros of such debt since November.
That's distorted the market, suppressing some eligible bonds' yield premiums relative to benchmark rates to the lowest since before the financial crisis and pushing investors into assets outside the scope of Draghi's program.
Bonds secured by U.K. collateral account for 59 percent of all asset-backed debt sold in Europe in the first three months of the year, the most since the first quarter of 2012, according to UniCredit.
"U.K. issuance came back to life in the first quarter," said Vasundhara Goel, an analyst at Morgan Stanley in London.
M&G Fund
Prudential Plc's M&G unit raised more than 300 million euros for a new fund targeting asset-backed securities the ECB won't buy, said Patrick Janssen, a money manager in London. M&G oversees 21 billion euros of asset-backed debt and favors U.K. residential mortgage-backed securities, he said.
The fund, targeting returns of 1.5 percent more than the London interbank offered rate, will also invest in notes from issuers outside the euro region backed by collateral including leveraged loans and commercial real estate debt, said Janssen, who manages the fund with James King and Matthew Wardle.
Top-rated U.K. residential mortgage-backed securities are diverging from similar Dutch bonds, according to JPMorgan Chase & Co. The average premium over benchmark rates offered by U.K. notes versus that for Dutch securities widened to nine basis points from two basis points in November, when the ECB started its purchase program.
Dutch bonds pay an average spread of 25 basis points, the least since August 2007, compared with 34 basis points for those in the U.K., the data show.
"I have not seen as many relative-value trades as this in a very long time, and the best of these are to be found in U.K. RMBS versus Dutch RMBS," M&G's Janssen said. "The ECB is really changing the face of the ABS market"
Before it's here, it's on the Bloomberg Terminal.
LEARN MORE