Peer-to-Peer in the OR
Is it weird to invest in strangers' surgeries?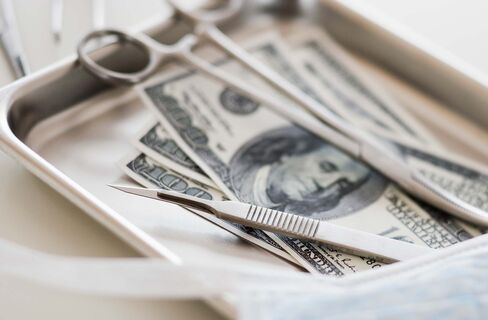 A year ago, Lesley Johnston weighed 298 pounds. At 30, the Norman (Okla.) resident suffered from hypertension, a rapid heart rate, and sleep apnea so severe she slept attached to a machine. In July, Johnston had bariatric surgery to shrink the size of her stomach. So far she's lost 72 pounds, and the apnea and hypertension are gone. "I don't worry about dying in my sleep," she says. Now her husband, Josh, wants the same surgery. And you might be able to profit from it.
Johnston paid for her procedure by putting $15,750 on a credit card, but she and her husband are considering financing his surgery with a loan from LendingClub or Prosper Marketplace, the two largest startups in the rapidly growing field of peer-to-peer lending. The companies match borrowers who want to do home repairs or refinance debt with investors eager to diversify from stocks and get returns higher than those of traditional bonds. The platforms see health-care lending as a growth market. Both companies acquired small medical lenders in the past year: Prosper bought American HealthCare Lending in January for $21 million, nine months after LendingClub acquired Springstone Financial for $140 million.
The companies say they can offer simple, competitive loans to customers such as the Johnstons. "We need to educate more borrowers that this is here, that this is the better way to borrow," says Ron Suber, Prosper's president. The $20 billion market for medical loans is growing 15 percent to 20 percent per year, he says. More Americans have insurance with high deductibles, while the improved economy prompts more spending on expensive elective procedures.
Peer-to-peer lenders are interested in the higher end of that market—targeting those with good credit who want to pay for veterinary care or teeth straightening, not uninsured people who've racked up emergency-room bills. Although Prosper will fund cosmetic surgery, LendingClub won't, citing the category's worse credit record.
Lending on each platform more than doubled last year, to $4.4 billion on LendingClub and $1.6 billion on Prosper. At a time of historically low interest rates, with 10-year U.S. Treasuries offering yields of 2.1 percent, investors in peer-to-peer loans can get returns of 5 percent or more. Investors include individuals, hedge funds, and the world's largest asset managers. For their purposes, it barely matters if a loan is used to consolidate credit card debt or fund dental work, fertility treatments, or face-lifts.
If anyone's squeamish about making a percentage on his fellow citizens' health problems, there's no evidence of it on the Prosper and LendingClub servers, where almost every loan gets funded. Individuals can browse the sites, picking what level of risk they're comfortable with. Larger investors often take a more automated approach: Prime Meridian Capital Management, a California fund with more than $50 million invested in peer-to-peer loans, has software that pings Prosper's servers 20 times a second looking for loans. Still, says Prime Meridian Managing Partner Don Davis, the firm is lucky to get 10 percent of those it wants.
Brendan Ross, the president of Direct Lending Investments, a California company that specializes in the peer-to-peer market, sees loans for elective procedures as "happy loans." These borrowers, he says, want to feel or look better; they're unlikely to default on their spending. "Fixing your teeth is not something you do when you're in big trouble," Ross says.
To create more demand for medical loans that can be sold to investors, Prosper and LendingClub are working to establish relationships with networks of doctors, dentists, and other health-care providers. Patients are told that if they can't pay for a procedure with insurance or their own money, new financing options are available. To encourage patients to go ahead with their procedure, doctors pay fees to LendingClub, which then offers lower rates to the patients, including a no-interest period available on some loans. Prosper offers only fixed-term loans for periods of usually three or five years and eschews doctors' fees. Annual rates depend on a borrower's credit score and range from 6.7 percent to higher than 20 percent at Prosper.
The rates are generally lower than those offered by conventional medical lenders. One, Synchrony Financial, was spun off last year from General Electric and is now valued at $27 billion. Johnston paid for her bariatric surgery with a CareCredit credit card issued by Synchrony. CareCredit's biggest advantage is size: The $7.1 billion in health-care loans it made last year was more than the combined value of all loan types issued by Prosper and LendingClub.
Trouble at CareCredit may have given the lending startups an opening. In December 2013 the Consumer Financial Protection Bureau accused the company of "deceptive credit card enrollment tactics" and ordered it to refund $34.1 million to consumers. Customers thought their loans were interest-free, the CFPB said. Instead, if loans weren't paid off by the end of a promotional period, borrowers had to retroactively pay annual interest rates of 26.99 percent.
Synchrony is trying to move past its problems with the CFPB. The company "ensure[s] that every CareCredit applicant is given easy-to-understand explanations of the financing options available," says Carlos Campos, a company spokesman.
Johnston is still evaluating ways to pay for her husband's surgery, which insurance won't cover. "If it was up to him, he would have it done this week," she says. "We want to make sure we can live as healthy as we can, as long as we can."
Before it's here, it's on the Bloomberg Terminal.
LEARN MORE