Iran Could Add Million More Barrels a Day to the Oil Glut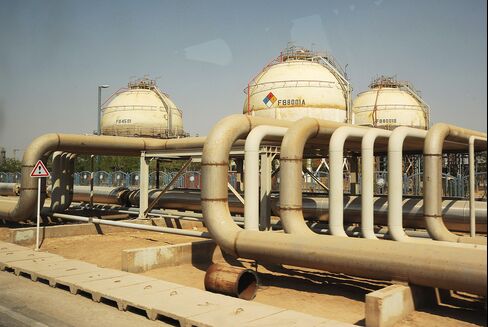 Iran says it could add a million barrels to daily oil production shortly after a deal to lift sanctions, reclaiming the position of OPEC's second-largest supplier. While such a boost would take months because sanctions may be rolled back slowly, industry observers agree the capacity is there.
Going further than that and adding a second million barrels -- as the government has said it plans to do -- will prove a much bigger challenge. It would take some five years and tens of billions of dollars of investment, according to two former oil-industry executives who worked in the country.
"The number one need is investment," said Mohsen Shoar, an analyst with Continental Energy DMCC in Dubai who helped ConocoPhillips negotiate oil contracts in Iran in the 1990s. "To get anywhere beyond 4 million barrels a day" will require foreign assistance, he said by phone.
Iran is seeking a final agreement with international powers by June that would curb its nuclear program in exchange for phasing out sanctions that have cut its crude exports, choked cash flow and halted most oil investment. The country produced 2.8 million barrels of oil a day last month, compared with 3.6 million at the end of 2011, according to data compiled by Bloomberg.
Increasing Production
Oil Minister Bijan Namdar Zanganeh said March 16 that the Persian Gulf nation would be able to raise production by a million barrels a day, bringing it to 3.8 million, "within a few months," placing it behind only Saudi Arabia in the Organization of Petroleum Exporting Countries.
Once the restrictions are eased -- a process that itself could take many months -- Iran would need to seek foreign partners to boost output beyond pre-sanctions levels, said Robin Mills, an analyst at Dubai-based Manaar Energy Consulting, who worked with Royal Dutch Shell Plc in Iran into the middle of last decade.
Mills estimates the country can recover about 3.4 million from current fields, short of the million-barrel increase targeted by the oil minister. The International Energy Agency, a Paris-based adviser to 29 nations on energy policy, says Iran could pump 3.6 million barrels a day within three months of the removal of sanctions.
Iran has been making preparations to bring its crude back to the market. State-owned National Iranian Oil Co. is already in talks with at least three buyers in Asia to sell them more crude if the restrictions are lifted, four people with direct knowledge of the discussions said last week.
Straddling Borders
Brent crude, the international benchmark, has fallen 13 percent this month to $54.39 a barrel on the London-based ICE Futures Europe exchange at 2:45 p.m. local time. The announcement of a nuclear deal would drive prices even lower, said Bjarne Schieldrop, chief commodities analyst at SEB AB, Sweden's fourth-biggest bank.
Beyond its ambitions for restoring pre-sanctions output, Iran seeks to add the further 1 million barrels a day to production capacity by developing fields straddling its borders with neighbors, Zanganeh said at a conference in Tehran May 6. The country wants to tap those deposits before its neighbors extract most of the oil, said Siamak Adibi, an analyst who focuses on oil production and Iran at consulting company Facts Global Energy in London.
Iranian 'Potential'
"Iran has remarkable potential for growth in production capacity," said Leonardo Maugeri, an associate at Harvard University's Kennedy School, who was head of strategy at Italy's Eni SpA until 2011 and worked on oil and natural gas projects in Iran. "Iran could explode in terms of production" if it opens to investment and improves contract terms for foreign companies, he said.
It will take about $50 billion of investment and at least five years for Iran to add a million barrels of daily capacity, Maugeri said by phone March 11. Mills estimated it would cost about $30 billion through at least the end of the decade for Iran to be able to produce 5 million barrels a day.
Zanganeh met with executives from BP Plc, Shell, Total SA and OAO Lukoil before the November OPEC meeting in Vienna and said all of those companies want to work in Iran after sanctions are lifted.
Foreign Companies
Lukoil would like to return to Iran when possible, Chief Executive Officer Vagit Alekperov said after the Vienna meeting Nov. 26. Officials from Shell, BP and Total declined to comment when asked about Iran on March 17.
Areas where Iran can add capacity are the Azadegan and Yadaravan deposits along the country's border with Iraq, said Adibi and Mills. Iran is going ahead with development of the South Pars natural gas field located offshore in the Persian Gulf, Adibi said. The deposit, which connects to Qatar's North Field, will raise production of condensate, a light oil found along with gas deposits, that will add to Iran's liquid exports, Adibi said.
Nuclear Talks
Negotiators are seeking a framework agreement by the end of this month and have set an end-of-June deadline to reach an accord on how to implement it. Significant gaps still separate Iran and the six world powers, who may continue meetings until March 22 in Lausanne, Switzerland, a European negotiator, who asked not to be named in line with diplomatic rules, said Thursday. The talks are in the "final inning," Iranian Foreign Minister Mohammad Javad Zarif told reporters.
Even if a final agreement is reached, U.S. officials say the country will suspend select economic penalties on Iran, perhaps for six months at a time, while United Nations inspectors verify if Iran is curtailing its nuclear activities.
"Practical circumstances make it unlikely that more Iranian oil is going to come out to market before 2016," Richard Nephew, who was the top State Department sanctions official on the U.S. negotiating team until three months ago, said by phone Wednesday.
Iraqi Gains
Iraq, another OPEC member whose output was constricted by sanctions and conflict, reopened to foreign investment in 2009 with two auctions of rights to develop fields. The country planned for international companies to spend about $100 billion and boost crude output to 12 million barrels a day by 2016, said Hussain al-Shahristani, the oil minister at the time.
While Iraq has now halved this target, it did attract tens of billion of dollars of foreign investment, the IEA said Feb. 14. The country boosted daily output to 3.7 million barrels in December, the highest since 1979 and an increase of more than 50 percent since 2010, IEA data show. It surpassed Iran to become OPEC's second-biggest producer in July 2012.
"Iran is one of the wild cards, one of the potential big surprises of the next five years," said Maugeri of Harvard. "The country really has the ability to arrive in a relatively short period of time, let's say five years, at production capacity of 5 million barrels a day of crude."
Before it's here, it's on the Bloomberg Terminal.
LEARN MORE