Sorry, CFAs. An MBA Will Get That Investment Banking Job You Want
If you want to land a top slot in investment banking, get an MBA over a Chartered Financial Analyst designation
Spending four years and hundreds of hours studying for a finance certification may not be worth it. A much larger share of managing directors at banks worldwide have master's of business administration degrees than Chartered Financial Analyst designations, a recent study shows.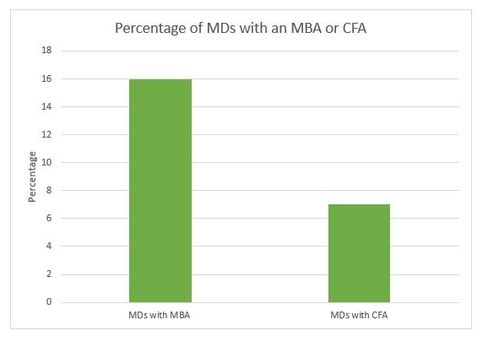 Efinancial Careers, a London-based financial-services website, analyzed résumés from their database of 17,000 people with 10 years of experience. In addition to the prevalence of MBAs among managing directors, the study noted that just 13 percent of people with CFAs are managing directors, compared with 18 percent of those with MBAs.
The study gets at the heart of a fierce debate about which set of letters people should pursue to make themselves eligible for a top slot at an investment bank: MBA or CFA. Two years at business school leads to the first, and about four years and a total of 900 hours of preparation for three exams leads to the second, a Chartered Financial Analyst credential. While to some, two years away from work seems like more of a sacrifice than taking a handful of tests while on the job, it is notoriously difficult to become a so-called charterholder.
Most people fail the exams, even after sinking whatever precious hours they have away from their cubes into studying. Just 44 percent of the 47,000 financial professionals who took the first level of the exam in December passed it, which was actually an increase from the depressing 42 percent who passed in June. Business school is more expensive, but also a surer bet for people intent on adding a new acronym to their e-mail signatures. Two years at a top MBA program can cost more than $100,000, vs. the $3,000 that people generally pay to take the CFA exams, but the majority of people admitted to business school finish with a degree in hand.
Before it's here, it's on the Bloomberg Terminal.
LEARN MORE