Is EU Support for Russia Sanctions Waning? See Who's Visiting the Kremlin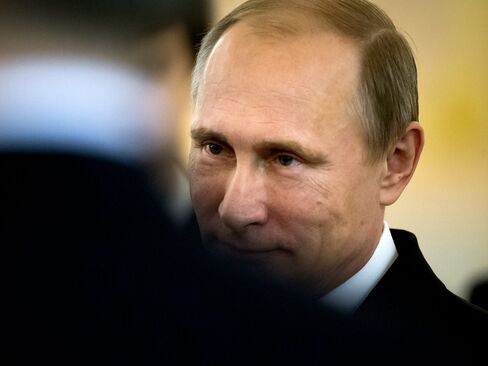 For evidence of the European Union's diminishing appetite for sanctions against Russia, look no further than Vladimir Putin's Kremlin guestbook.
Cyprus President Nicos Anastasiades visited the Russian leader in February, granting the Russian navy access to Cypriot ports; March brought Italian Prime Minister Matteo Renzi, labeled a "privileged partner" by Putin; Greek Prime Minister Alexis Tsipras is due next in Moscow, in April.
Along with Hungary, Slovakia, Austria and Spain, the three countries were reluctant backers of economic curbs to protest Russia's interference with Ukraine. As a wobbly truce takes hold in eastern Ukraine, the anti-sanctions bloc will lay down a marker at an EU summit starting Thursday in Brussels.
"The likeliest outcome is that they will not agree to roll over the sanctions now and they will put off a decision until the last possible moment before the sanctions expire," Ian Bond, a former British diplomat now with the Centre for European Reform in London, said by phone.
EU governments halted trade and visa talks with Russia and started blacklisting Russian politicians and military officers last March, after the annexation of Crimea. Those asset freezes and travel bans were extended by six months in January 2015.
It took the shooting down of a Malaysian passenger jet over eastern Ukraine in July to prompt wider-ranging curbs including bans on financing of major Russian banks and the sale of energy-exploration gear to Russia's resource-dependent economy. Those "stage three" measures are set to expire in July.
EU's Hawks
Proponents of extending them are led by Poland, the Baltic states and the U.K., and count as one of their own the EU president and summit chairman: former Polish Prime Minister Donald Tusk. The hawks have already backed down by seeking a five-month prolongation until the end of 2015, instead of the usual 12 months.
"At some time there should be a decision in our view about the extension of the sanctions until the end of the year," Lithuanian Foreign Minister Linas Linkevicius said in an interview in Brussels at a meeting of EU diplomats on Monday.
Even that is a stretch, at least at this week's summit. Sanctions require all 28 EU countries to agree, enabling skeptics to play for time, shape policies to their liking and, in the extreme, cast a veto. Greece's new government, for example, voiced discomfort about renewing the blacklists in January before finally going along.
'No Pressure'
The next summit in June is the "right time to make this decision," Slovak Foreign Minister Miroslav Lajcak said Monday. "We are under no pressure and therefore we do not share the opinion that the sanctions should be extended now."
Straddling the middle is German Chancellor Angela Merkel, who emerged as Europe's most powerful leader during the euro debt crisis. Merkel's conflicting priorities are to show firmness toward Russia while maintaining a semblance of European unity.
Ukraine looks to Merkel as a guarantor of the patchy cease-fire that she and French President Francois Hollande brokered with Putin in February.
"Relations between Germany and Ukraine have never been at such a high level," Ukrainian President Petro Poroshenko said at a news conference with Merkel on Monday in Berlin.
The EU's hard-line camp points to a year-end deadline for Russia to hand control of the border back to Ukraine as justification for continuing the sanctions until then.
Pragmatic Germany
Germany's stance is "pragmatic," Carsten Nickel, senior vice president at Teneo Intelligence, said in a report on Monday. "In the German view, if the cease-fire largely holds, the chances for a relaxation of sanctions are principally increasing."
The lifting of some restrictions wouldn't mean the lifting of all, in a classic EU compromise. One future possibility is to "modulate" the sanctions to reward partial compliance with the cease-fire, French officials told reporters in Paris on Tuesday.
"The anti-sanctions camp seems to be growing in confidence," Steven Blockmans, an analyst at the Centre for European Policy Studies in Brussels, said by phone. He said it would take a renewed Russian-backed drive deeper into Ukrainian territory to trigger "a further ramping up."
Before it's here, it's on the Bloomberg Terminal.
LEARN MORE