Lagarde Warns World to Brace for Volatility If Fed Surprises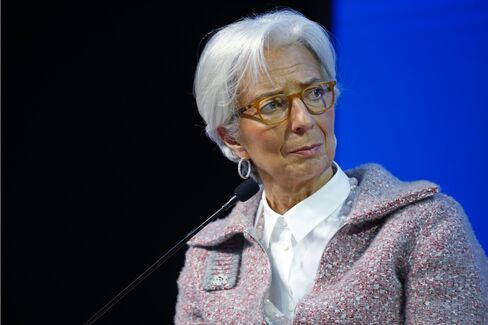 Emerging markets need to prepare for capital flight if investors are surprised by the timing or pace of policy changes in developed economies, the IMF's Managing Director Christine Lagarde said a day before the U.S. is expected to signal a shift in stance.
"We are perhaps approaching the point where, for the first time since 2006, the United States will raise short term interest rates later this year," Lagarde said in Mumbai on Tuesday. "Even if this process is well managed, the likely volatility in financial markets could give rise to potential stability risks."
She was sharing the stage with Reserve Bank of India Governor Raghuram Rajan, who has repeatedly called for more coordination among central banks to shield vulnerable markets from capital swings. The rupee was among currencies that plunged to a record when the Fed first signaled a reduction in stimulus in May-June 2013, pushing India to the brink of a crisis.
While markets have priced in possible Fed tightening to an extent, the International Monetary Fund sees some volatility based on the timing, pace and volume of a move, Lagarde said. She called for more policy cooperation among central banks as they get closer to an "inflexion point."
'Taper Tantrum'
Almost 90 percent of economists surveyed by Bloomberg News predict Chair Janet Yellen will drop a pledge to remain "patient" about raising rates when the Fed releases its statement after a meeting that ends Wednesday. The omission would signal that, starting in June and for the first time since 2008, officials would be making rate decisions meeting-by-meeting, based purely on the data in front of them, rather than committing themselves to keeping borrowing costs low.
Overseas investors withdrew $8 billion from rupee-denominated debt in 2013 in what came to be termed a "taper tantrum," compelling Rajan to offer banks discounted swaps for their dollars. Since then, he has built up the nation's foreign exchange reserves to a record $338 billion.
"I am afraid this may not be a one-off episode," Lagarde said of the 2013 outflows. She praised Rajan's measures and said India must continue to strengthen its economy and financial markets "with the utmost speed."
Rajan said India is better prepared to deal with capital outflows, an assessment shared by Morgan Stanley economists who had put it among the top five major emerging markets with the most vulnerable currencies in 2013.
'More Volatility'
"We can never say we have them fully under control but I think we are far better than where we were," Rajan said during the event, referring to cross-border capital flows.
Even so, Rajan said he wished for more policy cooperation among central banks, adding that it might emerge only if market volatility increases.
Apart from urging emerging markets to prepare for swings, she called on developed economies to use "clear and effective communication." Lagarde also asked central banks to be ready to offer "temporary -- though aggressive" cash infusions in case of any volatility.
"We went through a period of total lack of volatility for very long," Lagarde said during a question-and-answer session. "Some people got used it, but the normal way of operating is more volatility than what we have than no volatility."
Before it's here, it's on the Bloomberg Terminal.
LEARN MORE