Mario Draghi will match his words with action.
That's the bet of economists surveyed by Bloomberg News one week into the European Central Bank's 1.14 trillion-euro ($1.2 trillion) bond-buying program. Here's what they said about the size, duration and composition of the stimulus plan:
How big will quantitative easing ultimately be?
In announcing the program on Jan. 22, President Draghi outlined 60 billion euros in monthly spending over a 19-month horizon. Around one third of economists polled said the ECB will hit its exact target, while another third expects the central bank to overshoot. Sixteen percent said QE would reach 1 trillion euros. Eighty-six percent of economists predict the ECB will successfully spend 60 billion euros this first month.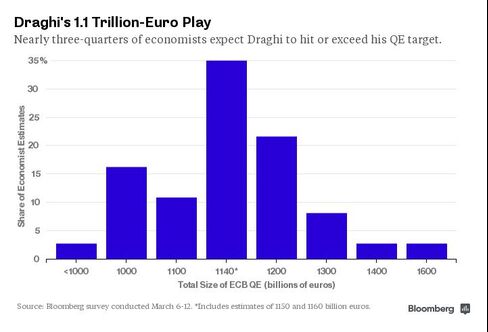 How long will QE last?
Draghi pledged asset purchases through September 2016 or until there's "sustained adjustment" in inflation rates toward 2 percent. About two thirds of the economists in our survey bet on the former. Nearly all the remaining respondents appear more convinced by Governing Council member Ignazio Visco, who told Bloomberg Television on the day after the announcement that the plan is in fact "open ended." Five percent see QE ending in October of next year, 10 percent in December, with a further 18 percent saying it will drag on into 2017.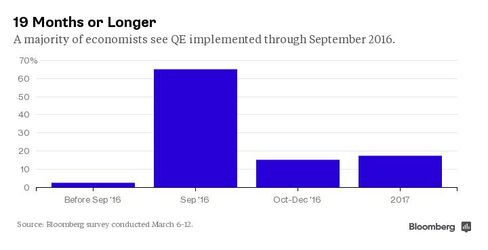 What will the ECB buy with its 1.14 trillion euros?
The simple answer: Mainly euro-area government bonds, which will make up 70 percent of the QE total, according to the median of 27 estimates. Covered bonds, which the ECB began purchasing last October, will contribute a further 12 percent, followed by 10 percent spent on agency debt. Asset-backed securities will account for just 4 percent of the total. Other options include debt issued by EU institutions, and economists said there's a one-in-four chance that the central bank will ultimately have to expand the program to include corporate bonds.
While not technically part of QE, economists were also asked about the ECB's upcoming targeted longer-term lending operation: The median estimate calls for banks to take up 40 billion euros this week and borrow a total of 360 billion euros across the program, including 212 billion euros from two offers last year.
What does this mean for the ECB's balance sheet?
It means a sizable boost from a recent low of just under 2 trillion euros in September 2014. Economists forecast an increase to 2.7 trillion by the end of this year and to 3.2 trillion by the end of 2016. While not on the same scale as the Federal Reserve's stimulus, this would propel the ECB's balance sheet to a new record.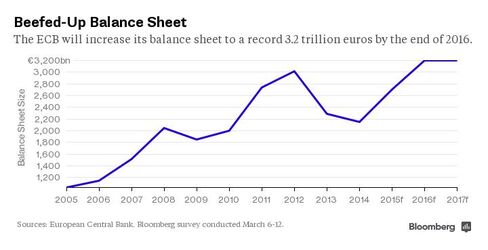 For more, read this QuickTake: Europe's QE Quandary
Before it's here, it's on the Bloomberg Terminal.
LEARN MORE