More Than a Million Hit Brazil Streets to Protest Rousseff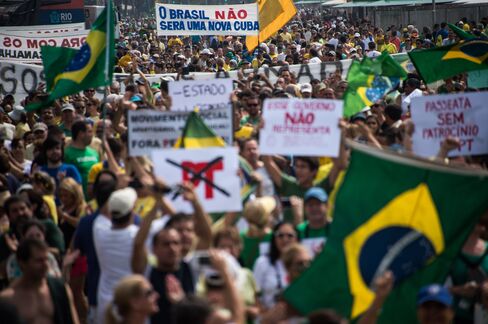 Brazil's government will present a package of anti-corruption measures after more than 1 million people, some of them calling for President Dilma Rousseff's impeachment, took to the nation's streets Sunday.
Rousseff will deliver the package within days, Secretary General Miguel Rossetto and Justice Minister Jose Eduardo Cardozo said to reporters in Brasilia after meeting with the president. Cardozo said the government is open to dialogue. He added that Brazil needs "political reform" including a ban on corporate finance of electoral campaigns.
Higher taxes and increased prices for government-regulated items like gasoline are rankling Brazilians as the biggest corruption scandal in the nation's history ensnares elected and appointed officials. The approval rating of Rousseff's government has plummeted since she won a close re-election last October. Yesterday's protests were bigger than the June 2013 demonstrations in which more than a million people decried deficient public services and demanded an end to corruption..
"They can't disqualify the size and pressure of the protest," Thiago de Aragao, a partner and director of strategy at Arko Advice, a Brasilia-based political risk company, said by phone. "The anti-corruption package will be more fluff than anything real, but at this moment it's one of the main things that the government has to respond with. They don't have much more than that."
Weaker Currency
Swap rates on the contract closing in January 2017, the most traded in Sao Paulo today, fell two basis points, or 0.02 percentage point, to 13.77 percent at 10:02 a.m. local time. The real strengthened 0.6 percent to 3.2304 per dollar and has fallen 17.7 percent this year, the most among major currencies tracked by Bloomberg. Brazil's Ibovespa equity index rose 0.48 percent.
The largest demonstrations occurred in Sao Paulo, with 1 million people, according to its military police. Protests occurred in cities of all 24 states and the federal capital, according to newspaper O Globo, citing military police estimates, including 100,000 protesters each in Porto Alegre and Vitoria and 45,000 in Brasilia.
Tax Increases
Rousseff's government is raising taxes and cutting spending as a means to shrink the budget deficit and avert a downgrade to its sovereign credit rating after years of ballooning spending and subsidized lending. Growth has stalled, and inflation exceeds the ceiling of the target range.
Rousseff's press office declined to comment on the size or nature of the protests.
Unfounded calls for impeachment are anti-democratic and unacceptable, Rossetto said, adding that most demonstrators were not Rousseff voters. While he and Cardozo spoke on TV, residents of some neighborhoods in Rio de Janeiro and Sao Paulo opened their windows, flicked lights and banged pots and pans.
"I don't think the government is weakened," Cardozo said. "Someone elected with almost 55 million votes three months ago who has a clear commitment to democracy is not weakening in the least. Knowing how to live with protests and contrary opinions is part of any democracy."
The demonstrations were organized by activists on social networks including Twitter and Facebook, as messages reached citizens via WhatsApp. Protesters nationwide sported canary-yellow shirts, sang the national anthem and waved flags. In Rio, where the march snaked along Copacabana beach, one banner with Brazil's flag read "Beloved Country," while another said "Military Intervention Now!"
30th Anniversary
Yesterday marked the 30th anniversary of Brazil's return to democracy after a 21-year military dictatorship. March 15 will henceforth be remembered as the Day of Democracy, Aecio Neves, whom Rousseff bested in the election last year, said in a video posted on his Facebook page, showing him sporting the yellow jersey of the Brazilian national soccer squad.
"I'm here to protest against corruption," said Eliana Batista do Norte, a 55-year-old publicist who marched in Sao Paulo. "It's not just about throwing the Workers' Party out. We have to get rid of all the corrupt people. There is already enough information to remove Dilma."
Brazil's Supreme Court on March 6 authorized a corruption probe of politicians including the heads of the Senate and lower house of Congress, Rousseff's former Energy Minister Edison Lobao, and her former chief of staff Gleisi Hoffman. All have denied wrongdoing. Rousseff is not under investigation.
Nationwide Turnout
The probe is related to alleged bribes and kickbacks at state-run oil producer Petroleo Brasileiro SA, with some of the money funneled into the campaign coffers of the Workers' Party and its allies in the governing coalition. The parties have said that all campaign donations were legal.
The legislation Rousseff's government will present is likely to make corruption a "heinous crime" and create greater public oversight over its state companies, according to Arko's De Aragao. Moving it through Congress, dozens of whose members are under investigation in the Petrobras scandal, will be a challenge, he said.
Research institute Datafolha countered police estimates and said 210,000 people took part in the Sao Paulo march, according to newspaper Folha de S.Paulo, which put nationwide turnout at almost 1 million. O Globo put the total at 2 million, citing military police estimates.
Protests also took place in the cities of Recife, Salvador, Goiania, Manaus, Fortaleza, Santos, Ribeirao Preto, Curitiba and Sao Luis, among others. Almost no violence was reported.
Labor Unions
Sunday's demonstrations followed marches staged on Friday by labor unions, which supported the government while protesting cuts to pension benefits and access to unemployment insurance. The "very delicate situation" reveals the need for the government to improve dialogue with both society and Congress, said Rafael Cortez, an analyst at Tendencias Consultoria Integrada.
"The 2013 movement was more diffuse, composed of different local agendas," Cortez said by phone from Sao Paulo. "The 2015 protest is clearly aimed against Dilma's government and her political group, above all the Workers' Party, and the issue of corruption."
Economic Contraction
Rousseff's approval rating slumped 19 points to 23 percent in a Datafolha poll conducted Feb. 3-5, with more than three-quarters of respondents saying she knew about corruption at Petrobras. More than half said she allowed corruption to occur, while an additional 25 percent said knew about it but was unable to stop it. The poll of 4,000 people had a margin of error of plus or minus two percentage points.
"I'm in favor of impeachment, not because I like the vice-president, but because we need to end impunity," Daniel Silva, a 17-year-old business management student from Planaltina, said at the Brasilia protest. "I'm fed up with our politicians and this government."
Yesterday's protest did not increase the odds of Rousseff's impeachment, which remains at 20 percent, according to Christopher Garman, director for Latin America at political risk consulting firm Eurasia Group. The protests have potential in the near-term to draw organized labor to the streets to demand better terms, he wrote in a note today.
After stagnating last year, Brazil's economy is heading for a 0.78 contraction in 2015, according to economists surveyed weekly by the central bank. Annual inflation reached 7.7 percent in February, the fastest in nearly a decade. The central bank targets inflation of 4.5 percent, plus or minus two percentage points.
Before it's here, it's on the Bloomberg Terminal.
LEARN MORE