How Canada Goose Parkas Migrated South
The thousand-dollar coats you see everywhere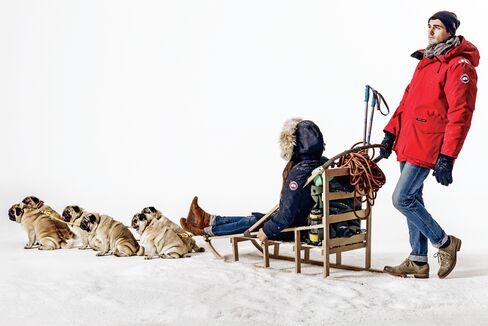 A few months a year, Jim Haugen can be found at the South Pole tending to a cluster of very deep holes filled with sensors. The apparatus, called the IceCube, is a sort of inverse antenna array extending 1.6 miles down into Antarctica's thick carapace of ice. It was built to capture information about neutrinos, subatomic particles from space that astrophysicists believe could answer fundamental questions about the universe. Haugen, an engineer, helped build the IceCube—complicated and dangerous work, much of it performed outdoors during the brief Antarctic summer—and now he maintains it. "We start arriving early in November, when the temperature is in the minus 40s Fahrenheit. You get a little bit of wind, and it's easily minus 60 or 70. By December it transitions through the minus 30s into the minus teens," says Haugen, a son of Green Bay, Wis., who tends toward understatement on the weather. "And then in January, it starts getting cold again."
Haugen's IceCube tours all begin the same way, at the U.S. Antarctic Program's clothing distribution center in Christchurch, New Zealand. There he's issued a pair of insulated Carhartt overalls, a fleece jacket, long underwear, mittens, goggles, a hat, waterproof boots, and a bulky, cardinal-colored down parka made by Canada Goose. "Big red," as it's called, is one of the warmest coats on the market. On flights to and from Antarctic research stations, USAP team members are required to have their big reds within reach in case the plane crashes and survivors are caught out in the elements. "I've never been cold with that jacket on," Haugen says. Asked about their aesthetic appeal, he seems perplexed. "I wouldn't say there's really anything fashionable about them at all," he says.
Everyone is entitled to his opinion, of course, but if one defines fashion as stuff shoppers will seek out and spend lots of money on, the Canada Goose parka has been the most fashionable item of the grinding winter of 2015. In New York and Milan, in Paris, Dallas, and Seoul, Canada Goose has been everywhere, zipped to the chin on commuters hurrying a few blocks to their office and draped over shoulders in drafty cafes and trattorias. The coats have appeared in blockbuster films and in countless paparazzi shots of celebrities on coffee runs. One was matched with a bikini bottom in a now legendary Sports Illustrated cover shoot. Canada Goose today makes hats, windbreakers, vests, and snow pants, but the must-have item is the parka, in black or dark blue, with a coyote-fur-trimmed hood and a price tag that starts at about $600 and runs for some models into the four digits. The company's logo, a disc with a stylized red-white-and-blue map of the Arctic parenthesized by maple leaves, has become inescapable in the urban environments where people are willing to spend a thousand dollars on a coat (while spending most of their time indoors).
According to Tom Ott, the executive in charge of men's clothing at Saks Fifth Avenue, Canada Goose sales have been ferocious over the past two years in both the men's and women's departments. "It was the most explosive area in men's during the fourth quarter," he says. In the past 10 years, annual revenue at the privately held, Toronto-based company has grown from $5 million to $200 million. Private equity firm Bain Capital bought a majority stake in December 2013 for an undisclosed sum. The coats have been selling out at Saks locations all over the country, Ott says, not only in the snow-battered Northeast but also in California and Texas. Sales have been strong even in Florida.
How did this happen? It's certainly been a very cold couple of winters in much of North America. But there are lots of companies that make warm coats you can buy for less money, even at Saks. The Canada Goose phenomenon—and with 500,000 jackets produced this year, it's surely a phenomenon—isn't about mere functionality. It's equally about the look of functionality, and the romance of stoic people doing strenuous things in hostile places. And though the Canada Goose epidemic originated, as might be expected, in Canada, the critical mutation that allowed it to jump the species barrier from the Arctic grease monkey to the metropolitan clotheshorse—and to spread unchecked beyond—occurred elsewhere. Film sets were vectors of transmission, and patient zero seems to have been Swedish.

In 1957, Sam Tick, a Polish immigrant and a fabric cutter, started Metro Sportswear, producing snowmobile suits, woolen vests, and assorted cold-weather workwear out of a small Toronto warehouse. Tick's son-in-law, David Reiss, took over in the 1970s, and under his leadership the company started making down parkas, selling them under the name Snow Goose in Canada and Canada Goose in Europe (the brand Snow Goose was already taken there). The company also manufactured coats for bigger labels such as Eddie Bauer and L.L.Bean. To maximize warmth, Reiss used special down blends, many incorporating the high-quality goose and duck down produced in Western Canada by an Anabaptist sect called the Hutterites. Canada Goose and Snow Goose acquired a loyal following among people interested primarily in warmth, durability, and large, accessible pockets. Petroleum engineers and dog sledders, polar research organizations and Canadian police departments proved willing to pay premium prices for the parkas.
In 1996, Reiss's son, Dani, graduated from the University of Toronto with a degree in English literature and little interest in working for the family business. He wanted to write short fiction. To make some money, though, he took a temporary job working for his dad, managing the company's accounts with small Canadian airlines operating in the far North. Dani got interested in the business and stuck around longer than he'd planned. He liked to travel and decided it might be interesting to see how the coats were sold outside Canada.
When he visited Stockholm in the late 1990s, Sweden was already an important market for Canada Goose. What Reiss quickly realized was that the same jackets he was selling to bush pilots appealed to an entirely different type of Swedish customer. "I walked into a store one day, and there was Canada Goose between Gucci and Prada," he says. "The Swedish royal family wore our jackets. They still do." And though the coats came only in men's sizes, women loved them, too. Stores in Stockholm had a hard time keeping themen's triple-extra-smalls in stock.
What someone else might have seen as a charming oddity of a practical people, Reiss saw as an opportunity. He abandoned his literary ambitions and dedicated himself to getting the world to see Canada Goose through Swedish eyes. In 2001 he took over from his father as president and chief executive officer. He introduced a women's line and developed slimmer "urban, modern" models for both men and women. He stopped making coats for other labels and sold only under the Canada Goose brand. Reiss courted higher-end department stores at trade shows. And he decided to keep all of his manufacturing at home in Canada, a decision that would justify the parkas' high price, ensure quality, and burnish the pitch about tradition and know-how. "People around the world love Canada," he says. "They love what we stand for, they love our nature, they love the North, they love the images of that." And if people around the world know one thing about Canada, they know it's cold.
Reiss also found cheap ways to market the brand. He gave coats to bouncers at Toronto nightclubs and scalpers outside the city's sports arenas. Canada Goose parkas were already popular with movie crews, and he capitalized on that. The company is a sponsor of the Toronto, Sundance, Berlin, and Busan film festivals. Producer Rose Ganguzza remembers calling up the coatmaker in February 2011 when she was making Kill Your Darlings, a drama about the coming-of-age of the Beats and a sensational 1944 murder. "We were going to be shooting scenes on the Hudson River in 20-below temperatures," Ganguzza says, with perhaps a touch of exaggeration. Canada Goose outfitted the entire cast and crew for free. "They found loyal customers in every one of those people," she says. "Dan Radcliffe"—the English actor plays a young Allen Ginsberg in the film—"every year wants a new Canada Goose jacket."
In late 2012, Sports Illustrated got in touch with the company to outfit a crew going to Antarctica to shoot the 2013 swimsuit issue. The supermodel Kate Upton ended up wearing one of the coats, a white Chilliwack bomber jacket, on the cover of the magazine, her face haloed in coyote fur. In 2013, Canada Goose's U.S. sales increased 25 percent; last year, they rose an additional 30 percent. Reiss expects sales to grow by half in 2015.
Ask someone why they bought a Canada Goose jacket, and they'll probably say it's because it's warm and well-made. As Reiss points out, there are plenty of parkas that are a lot more expensive but won't last nearly as long. That's certainly true: The wrist cuffs are thick and snug, the outer fabric is tough, and the proprietary down filling retains heat like a pizza oven. Having a large, bright logo advertising how much the wearer paid for the coat doesn't hurt, either. As with all popular brands, Canada Goose has inspired imitators and Chinese counterfeiters, and it's gone to court to protect its trademark. Company executives have claimed that the fakes use German shepherd fur rather than coyote (antifur campaigners, no fans of Canada Goose, would see that as a distinction without much of a difference) and warned that microbes in the cut-rate insulation of the knockoffs make them health hazards.
To the uninitiated, the Canada Goose logo can be a little confusing. The words "Canada Goose Arctic Program" are written around the edge of it, as if it were not a mere clothing label, but the insignia of a polar research consortium or an elite team of ski commandos. There isn't any such program. David Reiss made up the name in the early 1980s when he created the logo, which is almost identical to the official patch of the USAP. Comparing the two symbols, it's hard not to see Canada Goose's jealously guarded logo as its own kind of knockoff.


Status-conscious urbanites have been aping adventurers since the Middle Ages. According to Lourdes Font, an art historian at the Fashion Institute of Technology, the first example of designer sportswear was the surcoat. Knights on the Crusades wore special long tunics over their armor to keep it from overheating in the Middle Eastern sun, and when they got back to Europe, it became a fashion craze. The trenchcoat has a similar story: Originally designed for British officers to wear in the soggy trenches of the Great War, it caught on with civilians who wanted its aura of martial mettle and rank. The waxed-cotton jacket and the boat shoe, the polo shirt and the Patagonia fleece don't have military associations, but they conjure up an image of rustic, moneyed leisure devoted to active pursuits. While it's probably little comfort to the cubicle jockeys who wear them, modern business suits were born out of 19th century riding costumes.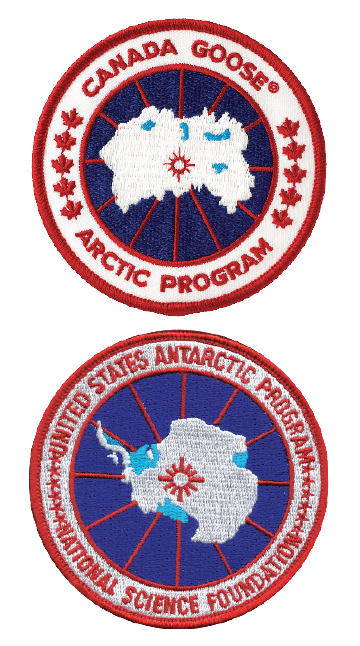 Canada Goose parkas aren't Barbour jackets; they don't bring to mind the country squire. They're workwear—or, in the case of the company's newer models, they at least resemble workwear. But the labor they evoke is very different from what most of the people now buying the coats actually do. It's the sartorial equivalent of reality cable shows like Deadliest Catch or Ice Road Truckers, where viewers live vicariously through crab fishermen and truck drivers braving the Arctic, doing work that's physical and dangerous and somehow, we think, more real. Office-bound Walter Mittys in Canada Goose can imagine themselves prospecting, patrolling remote borders, tracking polar bears, or venturing out into the Antarctic cold to fix the neutrino sensor and unlock the ultimate questions of existence.
Not everyone who buys a Canada Goose parka has these fantasies, of course. Popularity has its own momentum. This year the attraction of Canada Goose has surely grown beyond its provenance and become largely about the brute fact that everyone is wearing it. That dynamic is a powerful one, at least for a little while. A few brands with similar associations—Land Rover is the best example—manage to survive the transition to status symbol while retaining an aura of authenticity. The danger, though, is that the more Canada Goose parkas one sees on the subway or on the coat rack at the dentist's office, the more prosaic they seem.
Haugen, the Antarctic engineer, returns his government-issue big red every February so someone else can use it. And he doesn't need his own; by the time he's home in Madison, Wis., it's almost spring. Even at the South Pole, he says, he doesn't wear the parka that much. When he's working outside he's moving around, lifting, turning, and pulling, and even in -20F weather, big red is too hot. He prefers layers. "Long underwear next to your skin, a fleece, and a down vest, then maybe another very lightweight down jacket, and then over the top of that a shell," he says. "The same thing as when you go to a Packer game at Lambeau Field in December."
Before it's here, it's on the Bloomberg Terminal.
LEARN MORE