PBOC Pledges to Press on With Rate Liberalization Amid Slowdown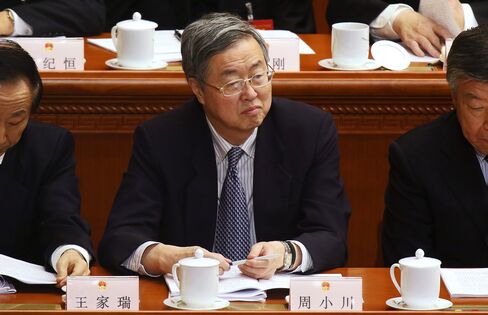 China's central bank is pushing ahead with plans to liberalize interest rates even as the economy slows, a reform that would effectively end a dual-track rate system that has seen savers subsidize decades of investment-fueled growth.
Removal of a cap on what banks can pay depositors over the benchmark rate is "very close," People's Bank of China Governor Zhou Xiaochuan said Thursday at a press conference in Beijing at the National People's Congress. "If there is a chance this year, the deposit-rate ceiling will be lifted, and the last step that people have been expecting will be made," Zhou said. "The probability is very high," he said.
At the same time, the central bank has guided some lenders to lower deposit rates on concern they had been increasing them too quickly, people with knowledge of the matter said Thursday. Such caution suggests the PBOC wants to keep a degree of control even as it empowers banks to determine savings rates.
"They will be smart about it," said Keith Pogson, a Hong Kong-based senior partner for financial services at Ernst & Young Global Ltd. "I really don't think they will take the handbrake off and let the car roll down the hill."
In its interest-rate cuts announced in November and last month, the PBOC raised the limit banks could pay savers to cushion incomes. Policymakers are seeking a rebalancing toward consumer-led growth and away from debt-funded investment.
Chinese banks' net interest margin, a measure of their lending profitability, is already under pressure.
Margins Squeezed
The latest rate cut will lower margins by an average 3.5 basis points in 2015 and 11.3 basis points in 2016, while their profit will be reduced by 2.3 percent and 7.3 percent respectively, Barclays Plc estimated. Banks are unlikely to price their deposits up to the full ceiling as it would cut too much into their earnings, according to Barclays' Hong Kong-based analyst May Yan.
The governor said money supply growth is still "appropriate" and a new normal of slower economic expansion doesn't mean there'll be a switch from a "prudent policy stance."
Minutes before Zhou's briefing started, data was released that showed M2 money supply rose 12.5 percent from a year earlier in February. Premier Li Keqiang last week set the growth goal for M2 -- the broadest gauge of money supply -- at 12 percent this year, down from 13 percent in 2014. The actual expansion can be higher if necessary, he said.
The PBOC announced a 25 basis point reduction in both benchmark deposit and lending rates on Feb. 28 and raised the deposit rate ceiling to 130 percent of the benchmark from the previous 120 percent. The central bank is expected to make another 25 basis point interest-rate cut in the second quarter, according to a Bloomberg survey this month.
Rates Liberalization
China's history of interest-rate liberalization can be traced back to 1993, when the communist party drafted a market-oriented reform blueprint. A detailed roadmap of freeing up controls over interest rates was published in 2003.
At the NPC press conference a year ago, Zhou said the country's deposit rates would be liberalized in one to two years, to expand the role of markets in financing.
Payments to depositors that often failed to match the inflation rate enabled banks to funnel cheap loans to state enterprises and infrastructure investment, helping fuel three decades of 10 percent annual average economic growth. A sustained easing of this so-called financial repression would channel more wealth to the masses and help boost consumption.
That gels with Premier Li's vow to "move faster to foster growth areas of consumption," delivered in his work report to the nation's legislature last week.
"Despite the opposition from the banks, they are close to clearing the final roadblocks to getting rid of the ceiling," said Tim Condon, head of Asia research at ING Groep NV in Singapore. "It's a gradual process. It's unrealistic to expect that we're not going to see some interventions as they transition away from direct toward indirect controls."
— With assistance by Xin Zhou
Before it's here, it's on the Bloomberg Terminal.
LEARN MORE