It's an American mystery story: More people have jobs and extra pocket money from lower gas prices, but they aren't buying as much as economists expected.
The government's count of how much people shelled out at retailers fell in February for a third consecutive month. Payrolls are up 863,000 over the same period.
The chart below shows retail sales and payrolls generally move in the same direction, until now. The divergence could portend lower levels of economic growth if Americans' usually reliable penchant to spend is less than what it once was.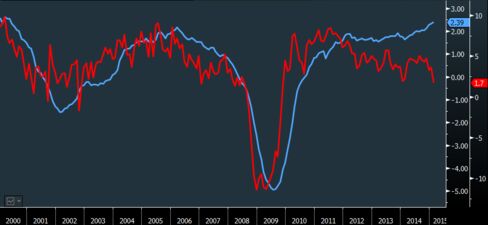 "The expenditures that add up to gross domestic product are coming in a lot softer than employment," said Neil Dutta, head of U.S. economics at Renaissance Macro Research LLC. "Why would retailers be hiring if sales are falling? Why would they be boosting hours if sales are falling and why would they be paying more?"
Also, take a look at the household saving rate. It's gone up as gas prices fell: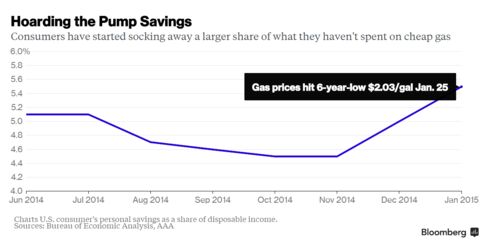 Ben Herzon, a senior economist at Macroeconomic Advisers LLC, isn't that worried yet. As usual, the data is quirky. First, he notes, "it was crazy cold in February." Aside from stocking up on milk in the snowstorm, staying indoors was probably a more attractive option for most shoppers. Purchases at online retailers in February showed a 2.2 percent increase, the largest since March 2014.
In the region from the Mississippi River to the East Coast, Americans in 23 states lived through a "top-10-coldest February" in National Oceanic and Atmospheric Administration data back to the start of 1895.
Herzon notes that lower gas prices also depressed the count in prior months. The government is adding up dollars spent, so fewer dollars to fill a gas tank results in lower sales. That even bleeds into narrower measures of retail sales because grocery stores such as Safeway Inc., Wal-Mart Stores Inc., and Sam's Club also sell gasoline.
Herzon is counting on a March rebound. There won't be the weather to blame anymore, and gas prices have rebounded off their lows of late January and early February. The average price of a gallon of unleaded gas $2.45 Wednesday compared with $2.06 Feb. 1, according to AAA.
"Payroll employment has been great, and it is generating a lot of labor income that you think would be spent," Herzon said. "March should be a rebound. Our story would be wrong if it doesn't happen."