What If Apple Had Entered Dow in 2008?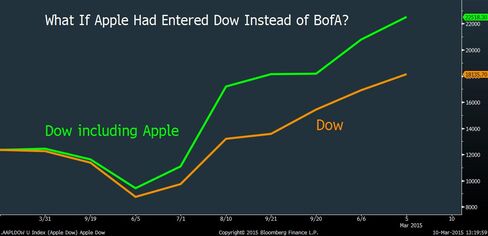 In February 2008, Apple Inc. had Steve Jobs, a market value of $100 billion and a year's worth of iPhone sales. What would've happened if it had gone into the Dow Jones Industrial Average then?
It didn't, of course: Bank of America Corp. was added to the 118-year-old gauge that month, only to be kicked out five years later. The CHART OF THE DAY shows a theoretical estimate of how choosing Apple instead would have affected the Dow's trajectory.
Aided by a pre-split Apple, whose stock exceeded $700 by 2012, the 30-company gauge would've reached 21,944.66 on Tuesday -- almost 4,300 points above its actual level. Adding the iPhone maker to the index amplifies the return not only because Apple rose sevenfold since 2008, but because its stock didn't split until June 2014, further boosting the price-weighted Dow.
"Apple was a good contender back then, but it would have overwhelmed the Dow," said Robert Pavlik, who helps oversee $9 billion as chief investment strategist at Boston Private Wealth. "The shares have been on fire since it came out with the iPhone and iPad."
The chart is hypothetical for several reasons. AT&T Inc. -- expelled by Apple last week -- is taken out in 2013 instead of Bank of America, which was actually replaced at that time by Goldman Sachs Group Inc. Also worth noting: it's possible that its admission to the Dow in 2008 would have prompted Apple to split its shares earlier.
Replicating the Dow with different components takes several steps, including reconfiguring the list of members when any are added or subtracted and recalculating a number known as the divisor, which is used to establish continuity after certain changes such as splits. For simplicity's sake, the chart is plotted according to the dates when Dow members changed or had corporate actions.
Before it's here, it's on the Bloomberg Terminal.
LEARN MORE