ECB 'Chasing Own Tail' as Bond Rates Turn Negative: SocGen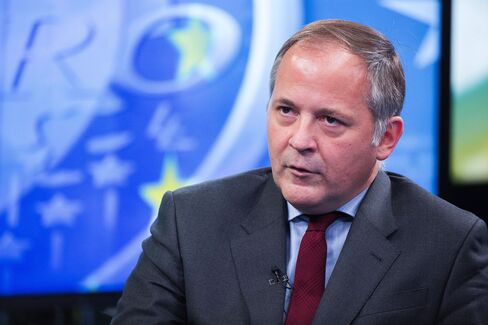 The amount of bonds eligible for the European Central Bank to buy under its quantitative-easing program is poised to shrink as the purchases risk pushing more yields below zero, according to Societe Generale SA.
The ECB, led by President Mario Draghi, began buying euro-area sovereign debt on Monday under the 19-month plan to inject
1.1 trillion euros ($1.2 trillion) into the region's economy to spur growth. While the ECB was said to have purchased debt with negative yields this week, including that of Germany and the Netherlands, its rules preclude buying of securities yielding less than its deposit rate of minus 0.20 percent.
The move and anticipation of further bond purchases helped to push Germany's seven-year rate below zero on Tuesday, while yields from Italy to Ireland dropped to record lows. German notes maturing in April 2018 were no longer eligible for ECB buying on Tuesday as their yields dropped to minus 0.23 percent.
"It's like the ECB is chasing its own tail," Ciaran O'Hagan, head of European rates strategy at SocGen in Paris, said on Tuesday. "Yesterday, the Bundesbank could have bought 2018 notes. Today it needs to go out to 2019. The universe of buyable bonds is melting like snow in the spring sun."
A nominal amount of 1.17 trillion euros in bonds, or around 25 percent of total eligible government securities, is yielding less than zero, according to SocGen data.
ECB Rates
The ECB last cut its deposit rate in September. Policy makers maintained interest rates at record lows at a meeting on March 5, holding the key refinancing rate at 0.05 percent.
The ECB will be able to meet its targets for buying government debt, Executive Board member Benoit Coeure said in Frankfurt on Tuesday.
"While the effective supply of eligible securities is undoubtedly lower than the total amount outstanding, I do believe that it will still be substantially higher than the amounts we intend to purchase," Coeure said. "We may face a scarcity of bonds, but we won't face a shortage."
Coeure said the ECB and the euro-system central banks on Monday "purchased 3.2 billion euros of public sector bonds, putting the program on track to reach a total of 60 billion euros of public and private sector bonds in March."
'Ocean to Puddle'
Euro-area government bonds rallied on the third day, pushing yields to record lows from Italy and Spain to Germany, Finland and Austria. The rates on 10-year French securities dropped below 0.5 percent for the first time.
As yields drop, the pool of top-quality German bonds that are available for the ECB to buy will shrink from the size of an "ocean" to a "puddle," according to Royal Bank of Scotland Group Plc. This will force the Bundesbank, Germany's central bank, to buy more longer-maturity securities, or higher-yielding bonds with lower credit ratings, RBS said.
"Be long BTPs," RBS analyst Marco Brancolini wrote in a research note on Wednesday, referring to buying Italian bonds on the view that they will gain. The bank also "remains very constructive bunds, targeting 0.60 percent in 30-year and 0.13 percent in 10-year," he said.
The yield on German bonds maturing in August 2046 dropped two basis points, or 0.02 percentage point, to 0.74 percent as of 12:30 p.m. London time. The 10-year rate slipped one basis point to 0.22 percent, and touched a record 0.198 percent earlier.
Before it's here, it's on the Bloomberg Terminal.
LEARN MORE