Breakfast Gets Cheaper as Brazil Real Extends Slump: Commodities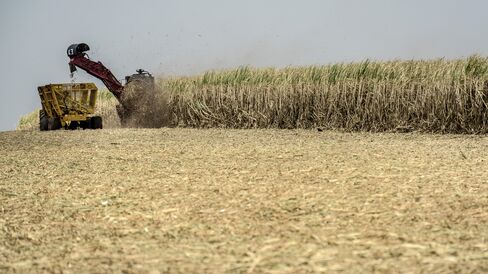 The weakest Brazilian real in more than a decade is rippling through the cost of commodities found on U.S. breakfast tables.
As Brazil's stalling growth and accelerating inflation weaken the currency, exporters are selling more coffee, sugar and orange juice, which are priced in dollars. The country is the top producer and shipper, and the surge in sales has driven prices lower for three weeks or more.
Hedge funds are the most bearish ever on sugar, U.S. government data show. They also are betting on lower coffee prices for the first time in a year and increasing wagers that orange juice will get cheaper. The real posted its biggest loss in six years last week.
"You have all these forces going on in the market which should keep the real fairly weak," Lara Magnusen, a La Jolla, California-based portfolio manager at Altegris Investments Inc., which oversees $2.5 billion, said by phone March 4. "It's sort of a catch-up game right now from Brazil exporters, and they're racing to sell their crop and get them converted to U.S. dollars."
The net-short position in raw sugar reached 99,439 futures and options in the week ended March 3, U.S. Commodity Futures Trading Commission data show. That's the most negative since the data begins in June 2006. The net-bearish wager in coffee was 1,576 contracts, the first negative outlook since January 2014, the CFTC said. The net-short position in orange juice was 3,518 contracts, and the funds have been bearish since July.
Arabica Coffee
Raw sugar on ICE Futures U.S. in New York fell 2.4 percent last week to 13.44 cents a pound, and touched 13.18 cents on March 4, the lowest since May 2010. The sweetener settled at 13.27 cents on Monday. Arabica coffee touched a 13-month low on March 3, and orange juice reached a two-year low the next day. The real tumbled 7.3 percent against the dollar last week, the most since 2008, and extended its slump to a decade low on Monday.
Brazil's currency is headed for a seventh monthly decline as President Dilma Rousseff faces a challenge in the Senate over her plan to unwind tax breaks, a step seen as key to restoring investor confidence in the nation's fiscal policies. In the week ended March 3, the amount of sugar waiting to be loaded at Brazilian ports rose 4.5 percent from a year earlier to 846,460 metric tons, according to Williams Serviços Marítimos Ltda., a Recipe, Brazil-based shipping agency.
Rains are improving the prospect for crops. Sugar-cane production in the Center-South, Brazil's main growing area, will rise to as high as 585 million tons in the season starting April 1, from 570 million a year earlier, Julio Maria Borges, partner at consultant JOB Economia e Planejamento, said March 3.
Millers' Debt
While the real's weakness is boosting Brazilian exports, many sugar mills with dollar-denominated debt are struggling. Since 2008, about 60 processors have closed and 70 are under bankruptcy protection, according to Unica, which represents the country's millers.
Sugar prices have fallen in the past four years, the longest slump on record, eroding farm income. In the 12 months that start Oct. 1, production will trail consumption for a second season, widening the deficit to 4 million tons from an estimated 2.4 million tons a year earlier, Societe Generale SA said Feb. 24.
"We do expect prices to edge a little higher through the course of 2015," Tracey Allen, an analyst at Rabobank Group in London, said by phone March 5. "The weakness in the real has improved prices for producers, but not back to levels that would encourage expansion."
18 Commodities
Net-long holdings across 18 U.S. traded commodities fell 35 percent to 352,891 contracts as of March 3, the CFTC data show. Bullish bets across 11 agricultural commodities tumbled 50 percent to 126,380 contracts. Investors cut corn wagers for a 10th week, the longest stretch since at least 2006.
The net-long position in gold slumped 15 percent to 87,966 contracts, the lowest level since Dec. 2. The metal last week erased its 2015 gain as signs of a strengthening U.S. labor market boosted the dollar and fueled speculation the Federal Reserve is getting closer to raising interest rates.
"All you need is your economy to be performing better than your trade partners, coupled with a monetary policy that's somewhat less dovish, to come to the conclusion that gold is not the asset class to be in," Chad Morganlander, a Florham Park, New Jersey-based money manager at Stifel, Nicolaus & Co., which oversees about $170 billion, said March 6. "The last thing you want to be in, as the dollar is strengthening, is a hard asset like gold."
Before it's here, it's on the Bloomberg Terminal.
LEARN MORE