Heta Damage Spreads in Austrian Downgrades, German Losses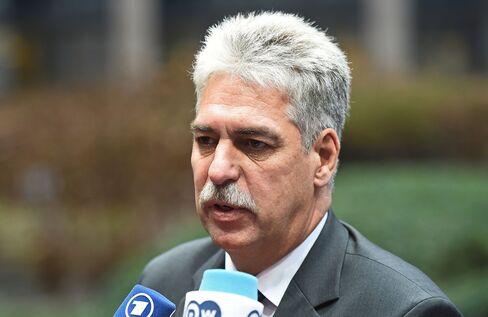 Austria's decision to wind down Heta Asset Resolution AG sent ripples through the financial system, causing credit rating downgrades in Austria and bank losses in Germany.
Moody's Investors Service cut the rating of Carinthia province, which guarantees 10.2 billion euros ($11.1 billion) of Heta's debt, by four levels to Baa3 from A2, and said it may lower the ratings of three state-owned Austrian banks exposed to it. Dexia SA's German unit, Deutsche Pfandbriefbank AG and NRW.Bank said yesterday they own Heta bonds that may suffer losses.
"Notwithstanding the intention of the central government to protect taxpayers under the new banking resolution regime, Moody's sees the steps taken so far as adding higher uncertainty to developments," the ratings company said late Friday in a statement on the Carinthia downgrade. "Susceptibility to an adverse scenario has increased as a result."
Austria paved the way for imposing losses on Heta's bondholders when it ruled out further support for the "bad bank" of Hypo Alpe-Adria-Bank International AG March 1. Using powers set out in European Union and Austrian bank laws covering debt reorganization, the Finanzmarktaufsicht regulator ordered a 15-month debt moratorium while it plans resolution of Heta's 18 billion euros of assets.
Carinthia's guarantees, which peaked at 25 billion euros in 2006, were the main justification for Hypo Alpe's public rescue in 2009 and the biggest conundrum in its wind-down.
Can't Pay
With budgeted revenue of 2.36 billion euros this year, the southern province of 556,000 people would be unable to honor the guarantees if they came due now or in a year's time, Governor Peter Kaiser told Austrian radio ORF on Tuesday.
The guarantees "could exceed Carinthia's liquidity resources, lead to increased financial leverage and could require some form of extraordinary central government support," Moody's said.
Finance Minister Hans Joerg Schelling has said repeatedly that the Austrian government isn't liable to cover Carinthia's guarantees.
Among Heta's liabilities affected by the moratorium and a future bail-in are 1.24 billion euros Heta owes to Pfandbriefbank Oesterreich AG, which issues bonds on behalf of Austrian provincial banks.
More Cuts Possible
Moody's said it may cut Pfandbriefbank's A2 rating as well as the ratings of two of its biggest member banks, Hypo Tirol Bank AG and Vorarlberger Landes- und Hypothekenbank AG, owned by the western Austrian provinces of Tyrol and Vorarlberg, respectively. A2 is the sixth-lowest investment grade rating at Moody's.
German banks yesterday also emerged as major Heta bondholders. Dexia's Dexia Kommunalbank Deutschland AG said it owns 395 million euros of Heta bonds and will take an unspecified charge in the first quarter. Deutsche Pfandbriefbank AG also owns 395 million euros of Heta bonds and said it will write them down by 120 million euros, cutting its expected pretax profit by two-thirds.
NRW Bank confirmed it owned Heta bonds, declining to specify the size of its exposure. WDR TV station reported the bank owns 276 million euros of them.
Before it's here, it's on the Bloomberg Terminal.
LEARN MORE