New York City Will Close Schools to Observe Muslim Holidays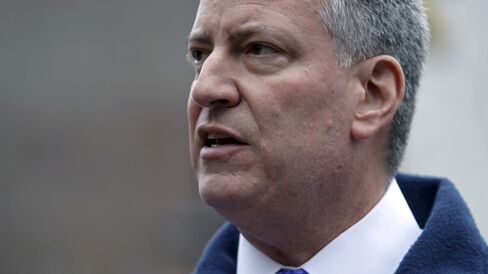 New York will become the largest U.S. school district to close in observance of the Muslim holy days of Eid al-Fitr and Eid al-Adha, Mayor Bill de Blasio said.
The mayor announced the policy Wednesday at a Brooklyn public school where 36 percent of its students were absent the last time Eid al-Adha occurred on an instructional day. The program will begin in the school year that starts in September.
"This is about respect for one of the great faiths of this Earth," said de Blasio, a 53-year-old Democrat. In past years, "either the child went and pursued his education and missed his religious observance or the other way around. That is the kind of choice that was wrong to have to make for these families."
The move fulfilled a promise de Blasio made to the Muslim community during the 2013 campaign that made him the first Democrat to run City Hall in 20 years. Eid al-Adha, which will be observed Sept. 24 this year, commemorates Abraham's willingness to sacrifice his son for God. Eid al-Fitr, which will occur in July 2016, marks the end of the holy month of fasting known as Ramadan.
Muslim students accounted for 12 percent of the 1.1 million youngsters in the largest U.S. school system, according to a 2008 report prepared for the Coalition for Muslim School Holidays in cooperation with Columbia University Teachers College.
Celebrating Diversity
Schools Chancellor Carmen Farina, who joined de Blasio for the announcement, said the day off would be used for teacher training and as a "teachable moment" to educate students of all faiths on the meaning of the holidays.
"The more we celebrate diversity, the better we are as a city," Farina said.
Brooklyn resident Ahmed Ali, 32, who participates in social and networking groups for Muslims, said he was pleased the city chose a move that helped children.
"It's good for the kids, it's a good step toward unity," said Ali, who has two children in public school. "We already have a good relationship with the city, but this is better; it's an improvement."
New York joins districts in Vermont, Massachusetts and New Jersey that close schools to observe the Muslim holidays, the mayor's office said in a news release. In the past, the city has closed schools on Jewish holidays including Rosh Hashanah, Yom Kippur and Passover.
(A previous version of this story incorrectly referred to the number of Muslim students.)
Before it's here, it's on the Bloomberg Terminal.
LEARN MORE