Gross Says Fed to Raise Rates in June While Rosenberg Says 2016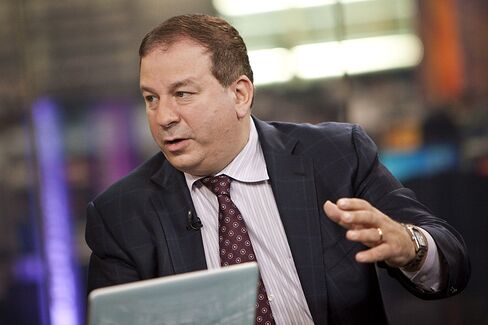 Bill Gross says the Federal Reserve will raise interest rates in June. David Rosenberg says it may not happen until next year.
It's the biggest question in the financial markets: When will the Fed move? U.S. stocks are surging to records as benchmark borrowing costs near zero drive the hunt for returns outside government debt. Treasury 10-year note yields rose for a second day as Actavis Plc sells bonds in what may be the biggest corporate debt deal in two years.
Gross, the bond king who moved to Janus Capital Group in September from Pacific Investment Management, said the Fed will act because borrowing costs near zero are threatening to create market bubbles as investors send stocks and debt higher.
"The Fed is willing at this point to at least acknowledge that by raising interest rates 25 basis points in June," he said Monday on Bloomberg Television's "Street Smart" program hosted by Trish Regan in New York.
Rosenberg, the chief economist at Gluskin Sheff & Associates, said Fed Chair Janet Yellen will wait until inflation reaches its 2 percent target, and that this may not happen until next year. "She will be patient," he said on the same program. Rosenberg previously served as chief economist for North America at Merrill Lynch & Co.
Yield Climbs
The benchmark U.S. 10-year yield rose three basis points, or 0.03 percentage point, to 2.12 percent as of 8:38 a.m. New York time, according to Bloomberg Bond Trader data. The 2 percent note due in February 2025 fell 9/32, or $2.81 per $1,000-face amount, to 98 31/32.
Actavis, which is selling bonds to help finance its acquisition of Botox-maker Allergan Inc., received orders for $90 billion of the debt after marketing parts of it at yields that are 0.28 percentage point more than a typical corporate bond with similar ratings and maturities. That's more than four times the $22 billion the pharmaceutical company said it intended to raise for the purchase.
The world's biggest economy is also sending mixed signals. The U.S. labor market capped its biggest three-month jobs gain in 17 years in January. Yet the Fed's preferred gauge of inflation rose only 0.2 percent from a year earlier, short of the target, a Commerce Department report showed Monday in Washington.
"We are in a bearish mode for Treasuries," said Allan von Mehren, chief analyst at Danske Bank A/S in Copenhagen. "The pressure is upward for Treasury yields as we get closer to the first Fed hike. They will move in June. The labor market is going to continue to tighten and overall the situation is favorable for them to start moving. And then they will signal that they will move slowly."
Rate Outlook
Traders see a 17 percent chance the central bank will raise its main rate from a range of zero to 0.25 percent by its June meeting, according to Fed funds futures data compiled by Bloomberg. The odds have fallen from 44 percent six months ago.
"To the extent that interest rates at the zero bound in the United States promote higher stock prices, higher bond prices, some of that trickles down to the real economy and promotes growth," Gross said. "But to be fair, not much has. What has been promoted has been potential bubbles in stock markets and in bond markets."
The Nasdaq Composite Index closed above 5,000 for the first time in almost 15 years Monday while the Dow Jones Industrial Average and Standard & Poor's 500 Index reached records.
Bloomberg's USD High Yield Corporate Bond Index has climbed 3 percent in 2015, almost double the gain for the whole of 2014.
Treasuries are having their most volatile start to a year on record, based on the January-February performance of the Bank of America Merrill Lynch MOVE Index in data back to 1989.
To Rosenberg, it's all about inflation -- or the lack thereof. Yellen in congressional testimony last month said she needs to see it over the 2 percent objective before raising borrowing costs.
"Watching inflation is a race between watching grass grow and paint dry," Rosenberg said. "It's going to be a 2016 story."
Before it's here, it's on the Bloomberg Terminal.
LEARN MORE