The Great Global Monetary Easing of 2015 May Be Done by Midyear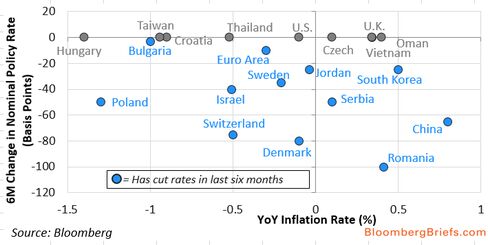 The rush began in Tashkent, capital of Uzbekistan, on Jan. 1.
The former Soviet state enacted the first interest-rate reduction of 2015. Since then, the cuts have come thick and fast, with the People's Bank of China on Saturday becoming the 17th central bank of 57 monitored by Bloomberg News to pare its benchmark.
By the end of this week, the list will probably include Poland. Some economists also forecast Australia and Canada will act for the second time this year.
Norway, Hungary and Thailand will all join the party this month, followed by South Korea in April, according to JPMorgan Chase & Co. economists led by Bruce Kasman. Out of room on rates, the European Central Bank is set to begin its 1.1 trillion euro ($1.2 trillion) bond-buying program.
And that may be that. For all the fireworks, the rate cutting may be over by the middle of the year as deflation worries ebb. Oil appears to be finding a bottom around $60 a barrel and global growth is firming. In the developed world, a measure of inflation expectations based on bond yields rose in January and February to 1.28 percent on Feb. 27, ending an eight-month slump, data compiled by Bank of America Corp. show.
That backdrop has JPMorgan predicting the Federal Reserve will raise interest rates in June for the first time since 2006 and, in doing so, end the international easing cycle. On the other hand, Goldman Sachs Group Inc. and Morgan Stanley predict docile inflation will persuade the Fed to hold off.
New-York based JPMorgan sees the average interest rate for the world bottoming at 2.46 percent this month before rising to 2.59 percent by the end of the year. The measure for developed economies will more than double to 0.58 percent from 0.22 percent, led by the Fed.
"A deflationary wave is about to break," Kasman wrote last week.
So, what began in Uzbekistan may end in the U.S.
Before it's here, it's on the Bloomberg Terminal.
LEARN MORE