Bill Gross Says Currency War Risks Slowing Global Growth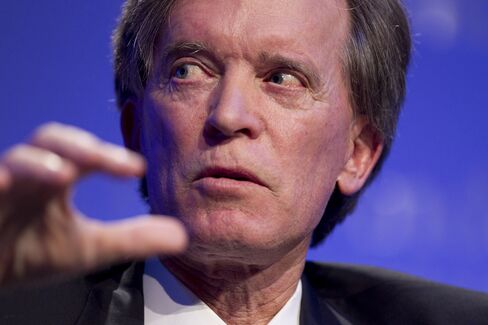 Bill Gross said a global race to devalue currencies in an "undeclared" war risks slowing growth instead of stimulating it.
Central bank policies have pushed interest rates below zero in Europe, and countries including China and Japan appear to be devaluing their currencies, he wrote in an investment outlook for Janus Capital Group Inc., where he runs the $1.5 billion Global Unconstrained Bond Fund. While such moves make debt burdens more tolerable and exports cheaper, they are bound to hurt the global economy as a whole, he wrote.
"Common sense would argue the global economy cannot devalue against itself," Gross wrote. "Either the strong dollar weakens the world's current growth locomotive (the U.S.) or else their near in unison devaluation effort fails to lead to the desired results."
More importantly, Gross wrote, low to negative interest rates hamper the functioning of capital markets and prompt investors to take on higher risk to boost returns, making the financial system more vulnerable. That's one reason why the U.S. Federal Reserve appears on course to start raising interest rates as early as June, he wrote.
Gross, chief investment officer at Pacific Investment Management Co. until his abrupt departure in September, said investors should stay conservative and hold high-quality bonds and stocks with low ratios of share prices to earnings.
Pimco Departure
Gross, 70, earned his reputation by building Pimco into a $2 trillion money manager, at its peak, with some of the industry's highest returns. His Pimco Total Return Bond Fund, which he managed until he left, ballooned to $293 billion in April 2013, before performance faltered and clients started to pull money amid concern that interest rates would rise.
Client withdrawals accelerated when Gross left the firm, after losing a power struggle with management. Pimco Total Return's assets had fallen to $134.6 billion as of Jan. 30.
Returns for the Janus Global Unconstrained Bond Fund, which he's run since Oct. 6, have been flat since then through Feb. 27, according to data from Chicago-based research firm Morningstar Inc. That means the fund is trailing 54 percent of peers, the data show.
Before it's here, it's on the Bloomberg Terminal.
LEARN MORE