Modi's Pro-Growth Budget Keeps India's Subsidies Untouched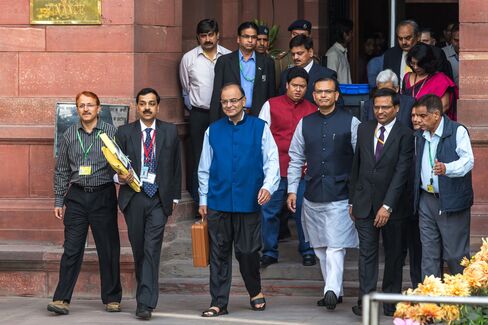 Prime Minister Narendra Modi delivered a pro-growth budget for the coming year, with a wider deficit projection, in an effort to boost Asia's third-biggest economy while retaining subsidy payments for the nation's poor.
The shortfall will narrow to 3.9 percent of gross domestic product in the year starting April 1, the smallest gap since 2008 but higher than a previous goal of 3.6 percent, Finance Minister Arun Jaitley told lawmakers on Saturday. He also cut corporate taxes and increased infrastructure spending.
"People who urge us to undertake big bang reforms also say the Indian economy is a super giant that moves slowly but surely," Jaitley said. "Even our worst critics would say we have moved rapidly."
Yet to come is the assessment of central bank Governor Raghuram Rajan, who said before the budget that he wants "high-quality fiscal consolidation" to further lower one of Asia's highest interest rates. Jaitley said that slower inflation should trigger more monetary easing.
The additional spending could help cement India's position as a leading growth driver among emerging markets as China's economy slows. At the same time, Modi avoided taking stronger steps to curtail subsidies in his first-full year budget after a loss in a Delhi state election showed the political support he enjoyed last year can't be taken for granted.
'No Fireworks'
"All in all it's a decent budget, but there are no fireworks," said Devika Mehndiratta, a Singapore-based economist with Australia and New Zealand Banking Group Ltd. "I had expected the Modi government, given their strong mandate, to at least present a road map for politically sensitive measures like tackling fertilizer subsidies."
The S&P BSE Sensex, open for trading on a Saturday for the first time in at least 16 years, gained 0.5 percent in volatile trading. The rupee and bond markets are shut.
The budget "will further reignite our growth engine, signalling the dawn of a prosperous future," Modi said on Twitter after the speech.
Jaitley said the budget deficit for the 12 months through March 31 will be 4.1 percent as targeted and fall to 3 percent in the year through March 2018. In July, he said he'd narrow the fiscal deficit to 3.6 percent of GDP in the 12 months through March 2016 and 3 percent a year later.
Still Constrained
The pro-growth budget means that India's sovereign rating hinges on whether the country's competitiveness improves, according to Atsi Sheth, the senior vice president for sovereign risk at Moody's Investors Service.
"The budget underscores our view that government finances are likely to remain a constraint on India's sovereign credit profile," she wrote. "Fiscal consolidation appears difficult to achieve even by a government with a considerable parliamentary majority and during a period of accelerating economic growth."
Crude oil prices have fallen more than 40 percent since June, allowing Asia's third-biggest importer of the fuel to scrap diesel-price controls and increase tariffs of local natural gas. Modi is expanding the use of biometric cards and direct cash transfers to ensure benefits go to the 59 percent of Indians who live on less than $2 per day.
Modi didn't take further steps today to wind up fertilizer, cooking gas and liquid petroleum gas subsidies. Jaitley repeated pledges to provide homes, toilets and electricity for India's 1.2 billion people by 2022, which would be the 75th anniversary of the country's independence.
Food Rising
While the subsidy bill will fall 8.6 percent as the plunge in global oil prices brought down oil-related payments, food and fertilizer costs are set to rise. Jaitley also increased the amount of funds for a rural employment guarantee program.
Total expenditure was set to rise 5.7 percent, with spending on roads, ports and power plants climbing 25 percent from the amount actually delivered in the current fiscal year.
"This is no secret that the major slippage in the last decades is on the infrastructure front," Jaitley said. "Our infrastructure does not match our growth ambitions."
Jaitley projected revenues will rise 4.6 percent from the previous year, with gains from asset sales more than doubling. Modi said this week he plans to share a record amount of funds with India's 29 states, leaving less money for the federal government.
Lacking Quality
Subsidies will fall to 14 percent of total spending in next year's budget from 16 percent this year, with infrastructure spending rising to 14 percent from 11 percent. If divestment proceeds are taken away, the fiscal deficit would widen, according to Deutsche Bank AG's Taimur Baig and Kaushik Das.
"A stimulus when growth is accelerating is not quite best practice," they wrote. "The budget may be broadly realistic and meets our expectations, but it still lacks the quality of adjustment we think is needed to put India's fiscal path on a robust and sustainable path."
Modi's government completed a monetary policy framework agreement with the Reserve Bank of India that would contain inflation at 6 percent "to ensure that our victory over inflation is institutionalized," Jaitley said today. The government would amend the RBI Act to establish a monetary policy committee, he added, without providing details.
Billionaire Uday Kotak, who controls Kotak Mahindra Bank Ltd., told CNBC that the higher-than-planned fiscal deficit target means "rate cuts may be limited."
Tax Cut
Jaitley said he'd lower the corporate tax rate over four years to 25 percent from 30 percent and make it easier for investors to get project approvals. Even after the phased reduction begins on April 1, India's rate will remain higher than the 2014 global average of 23.64 percent and Asia's average of 21.91 percent, according to a KPMG report.
The cut is part of Jaitley's "transformative tax regime which would be implemented on both direct and indirect taxes," Citigroup analysts including Rohini Malkani wrote in a note. The reforms include an increase in cigarette taxes by as much as 25 percent and a reduction in duties on raw materials for domestic manufacturing.
Jaitley delayed implementation of the so-called General Anti-Avoidance Rules, or GAAR, until April 2017. The rules, first proposed in 2012, seek to prevent companies from routing transactions through other countries to avoid tax.
"This is as comprehensive and good a budget as possible under the current circumstances," said R.C. Bhargava, chairman of Maruti Suzuki India Ltd. "The attitude of the government is no longer that they are doing you a favor by allowing you to build a road or a power-plant."
Execution Key
India's economy is projected to expand as much as 8.5 percent in the next fiscal year, according to the latest Finance Ministry estimates, the fastest pace among the world's biggest emerging markets. The ministry cautioned, however, that the forecast is based on a revised method for calculating gross domestic product and India's economy is still recovering.
The next few weeks will test Modi's ability to pass his proposals through parliament. The opposition-controlled upper house has blocked key initiatives so far, raising doubts about whether lawmakers will make permanent Modi's executive orders to ease land purchases, allow more foreign investment in insurance, and make coal mining more transparent.
"It's a credible, workman-like budget that's going to focus on capacity creation in the economy, which is positive," Sajjid Chinoy, JPMorgan Chase & Co.'s India economist in Mumbai, said on Bloomberg TV India, adding that he would've liked to see Jaitley keep the 3.6 percent target. "It's very important now that the execution happens."
(An earlier version of this story corrected the revenue growth figures.)
Before it's here, it's on the Bloomberg Terminal.
LEARN MORE