When finance sucks talented young workers away from other industries, we all suffer, a new report shows. Business schools, despite broadening their curriculum recently to encourage entrepreneurship and socially responsible careers, still basically amount to banker factories. If the boom in financial services is a sort of civic hazard, the role these programs play is hard to ignore.
In a paper released this month by the Bank for International Settlements, economists Stephen Cecchetti and Enisse Kharroubi build on their previous research showing that once a country's finance industry grows beyond a certain point, national gross domestic product per worker declines. That conclusion comes from a 2012 study in which they looked at economic output in 21 countries from 2005 to 2009 and saw productivity decline as soon as the finance sector hired more than 3.9 percent of all workers. In their new paper, they get into the causes of that effect.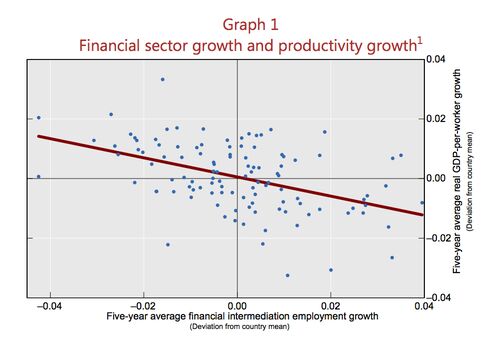 The rise of finance companies costs the economy partly because of the types of projects the industry invests in (such as construction, which brings quick returns without generating productivity), but also because of whom they hire: talented workers. When the most skilled people work for investment banks, their high-functioning minds are put to work on projects that don't do much to create growth over the long haul.
To boot, the paper suggests that when financial services hire the bulk of skilled laborers, it enables them to lend more abundantly, which creates the incentive for entrepreneurial companies to propose rapid-return, low-productivity projects in the interest of getting a piece of that easy money.
So where does that leave business schools, where people go to figure out what kind of industrious businessperson they'd like to be? By routing large swaths of young workers into finance, business programs are probably not powering economic growth.
Nearly 30 percent of undergraduates majoring in business at U.S. colleges were planning to go into finance in 2014, according to a Bloomberg Business survey of 28,000 students. Interest in finance far outstripped desire for jobs in consulting, the second-most attractive industry, which drew just 11 percent of undergrad business majors. About a fifth of people leaving full-time MBA programs in 2014 took jobs in finance, according to a separate survey of nearly 10,000 students. The finance industry was the second-most common destination for MBAs, after consulting.
The irresistibility of finance is easy to understand: A hedge fund or private equity firm will pay a business school grad twice as much as he or she would earn in education. What's good for finance might not be good for the economy, but it's a boon for business school graduates.
Before it's here, it's on the Bloomberg Terminal.
LEARN MORE