U.S. Tells Canada Its Climate Goal May Affect Keystone Decision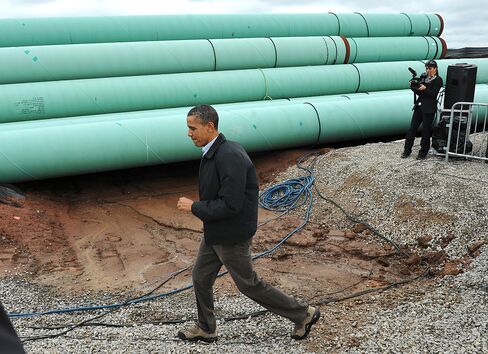 U.S. climate negotiators have told their Canadian counterparts that Canada's plan to cut carbon emissions could be one of the factors that President Barack Obama weighs as he considers whether to approve the Keystone XL pipeline, a U.S. official said.
The U.S. hasn't suggested it might approve the $8 billion proposed project in exchange for climate commitments, the official said. Canada is developing a proposal as part of United Nations-sponsored talks aimed at cutting carbon emissions that governments were encouraged to submit by next month.
The notion that there's any linkage between Canada's UN goals and the president's decision on the pipeline is patently false, said another U.S official familiar with the issue. There is a longstanding process for determining these projects, and the State Department is currently conducting that review, the official added.
Obama has secured climate concessions from China and India as part of those UN talks. A similar deal with Canada could help offset the anticipated environmental damage from the TransCanada Corp. pipeline, responding to project opponents.
White House Press Secretary Josh Earnest said Tuesday that Obama could approve the oil pipeline even though he vetoed a Republican bill that would have circumvented the review process that's been underway for six years.
Harper Offer
Canadian Prime Minister Stephen Harper offered in 2013 to cut greenhouse-gas emissions to win approval of the Canada-to-U.S. pipeline, according to a person familiar with the matter. In December, Harper said it would be "crazy" for his government to unilaterally introduce rules to cut greenhouse-gas emissions from the oil and gas industry as oil prices fall.
Gary Doer, Canada's ambassador to the U.S., said Canada is open to a joint deal with the U.S. to reduce carbon dioxide emissions, but he doesn't know of any suggestion that Keystone approval is conditional on such an agreement.
"We can't do it as a quid pro quo on Keystone," Doer said. "We don't think that Keystone is a climate issue."
Asked about the discussions with the U.S., Christopher McCluskey, spokesman for Canadian Resource Minister Greg Rickford, said his nation will work with other governments on a "fair, effective" deal covering emissions from all nations, including the U.S.
"This is not a debate between Canada and the U.S.; it's a debate between the president and the American people, who are supportive of the project," McCluskey said. "The environmentally responsible choice is for Keystone XL to be approved on its merits."
Carbon Emissions
American and Canadian environmental and diplomatic officials have long been in discussion over the commitment Canada will make as part of a UN climate accord to be negotiated in Paris this year, said the U.S. official with knowledge of the ongoing talks who requested anonymity to discuss international diplomacy.
The U.S. official said the issue of Canada's carbon reductions arose but wasn't the dominant theme of a meeting among Secretary of State John Kerry, Canada's Minister Foreign Affairs John Baird and Mexican Foreign Secretary Jose Antonio Meade in Boston on Jan. 30.
Aspects of the discussions were described by three U.S. officials. One official said the meetings between the U.S. and Canada have been confined to technical advice similar to what the U.S. is providing other nations.
'Safely Build'
"Ultimately it is up to elected officials to decide what agreements to negotiate and what policies to adopt," said TransCanada spokesman Shawn Howard. "Our job is to safely build and operate energy infrastructure and that is what we are focused on."
Depending on its nature and scope, Canada's contribution to a global goal could become a factor in Obama's decision on the Keystone pipeline, the U.S. official said, while stressing that it's up to the Canadian government, not bilateral negotiations, to decide that.
Obama has said he wouldn't approve Keystone, which would carry oil sands from Alberta into the U.S., if it would significantly add to the carbon pollution scientists link to global warming.
Raised Goal
Meeting new climate goals would be difficult for Canada, which is already likely to miss a pledge it made along with the U.S. to cut emissions by 17 percent by 2020.
The U.S. has since raised its goal to a 26 percent to 28 percent emissions reduction by 2025 from 2005 levels, in a bilateral deal with China.
A Keystone trade wouldn't make the task any easier, said Jake Schmidt, director of climate policy at the Natural Resources Defense Council, an advocacy group.
"If Canada was serious about its climate targets it would have to deal with its single biggest source of emissions, tar sands," Schmidt said in a telephone interview. "It's sort of 'fool me once.' Canada is not going to meet its current target; why should we expect this administration to meet its next target in exchange for Keystone XL?"
Before it's here, it's on the Bloomberg Terminal.
LEARN MORE