Three American Cars Make Consumer Reports Top Ten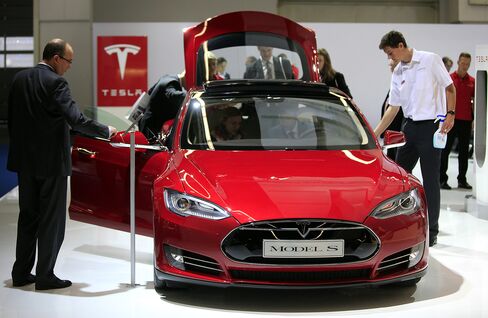 U.S. cars, including the battery-powered Tesla Model S, account for three of the top 10 picks by automobile testers at Consumer Reports for the first time since 1998.
Tesla Motors Inc.'s $89,650 Model S was the top overall pick for the second year in a row by the independent product-testing magazine. General Motors Co.'s Buick Regal was named the best sports sedan, a category the BMW AG 328i won last year, and its Chevrolet Impala was the top luxury sedan.
"For years, domestic automakers built lower-priced and lower-quality alternatives to imports, but those days are behind us," said Jake Fisher, Consumer Reports' director of automotive testing. "Today many domestic models can go toe-to-toe with the best imports."
Consumer Reports tests and evaluates cars for how well they drive, interior-finish quality, safety and reliability. The 2015 rankings, released Tuesday, influence car buyers and are published in the Yonkers, New York-based magazine's annual automobile issue.
For GM, which spent much of the past year grappling with the fallout from an ignition-switch defect, the rankings bring needed exposure to Buick and Chevrolet models with stodgy images. Tesla, which has had no shortage of attention for its all-electric cars, would need to find a way to boost production capacity to use the rankings to increase sales.
Youngest Automaker
Tesla is the smallest and youngest publicly held U.S. automaker, delivering a record 9,834 vehicles last quarter worldwide. Including product-development and other costs, Tesla is the only unprofitable automaker among the world's 20 largest on the basis of market valuation, according to data compiled by Bloomberg.
Elon Musk, the co-founder and chief executive officer of Tesla, plans to increase capital expenditures to $1.5 billion this year to boost production, build a battery factory and add at least two vehicles to the company's lineup. Tesla said last month it will be able to assemble 2,000 vehicles a week by the end of 2015 as it works toward 500,000 automobiles a year by 2020 and millions by 2025.
Despite the company's small sales, Palo Alto, California-based Tesla has roughly a $26 billion market capitalization. Detroit-based GM, which sold 9.93 million vehicles worldwide last year, has a market value of about $61 billion
Buick Surprise
While GM's vehicles may not hold the same public cachet as Tesla's, Consumer Reports heaped praise on the Buick unit, which became the first lineup by a U.S.-based automaker to crack the top 10 on the magazine's rankings of overall brand quality
The Buick Regal was deemed by the magazine to be "surprisingly agile" in defiance of its brand's stereotype. While the model has been around for years as a "comfy cruiser," the Regal now has Opel underpinnings, delivering "Teutonic ride control that provides a Europhile driving experience," the magazine said. It surpassed BMW's 328i, which had won the category each of the last two years.
GM's gains in the rankings came after a record-breaking year of recalls in 2014. Automakers recalled a combined 64 million vehicles in the U.S. last year, with GM alone accounting for about 27 million.
Better Manufacturing
Consumer Reports predicted increased public attention on safety will spur automakers to continue to "run scared," pulling the trigger faster when defects are detected. Concerns that would have been overlooked in the past won't be, resulting in better manufacturing practices and safer cars overall, the magazine said.
Still, Detroit-made models have leaped in the magazine's tests since 2012. Ford Motor Co.'s overall road scores are better than Honda Motor Co.'s, and its latest offerings have scored especially well. The brand is still weighed down by "legacy vehicles we cannot recommend," the magazine said.
GM and Ford are improving in repair costs, but there's still a gap with Japanese brands.
Japanese automakers still dominate both the list of top-pick cars and the brand report card. Fuji Heavy Industries Ltd.'s Subaru brand earned three top picks with its Legacy, Impreza and Forester. Toyota Motor Corp.'s Lexus was the highest ranked brand.
Toyota's Highlander earned honors for best mid-sized SUV, and its Prius was named best green car for the 12th year in a row. Honda Motor Co.'s Odyssey was honored as best minivan.
VW's Audi
One European automaker, Volkswagen AG's Audi subsidiary, remains on the list of top picks, with its A6 luxury car.
Consumer Reports saved its biggest praise for Tesla.
Tesla's Model S surpasses every other vehicle for sale in the U.S., scoring well as a sports car, a luxury car and a green alternative to a gasoline-powered engine. More is expected this year with an upgraded performance 85-watt version with separate motors for front and rear wheels.
"It has moved the needle so dramatically," said Mark Rechtin, the magazine's autos editor. "Nothing is usurping it. It accomplishes everything people wanted in an electric car."
Tesla can't get complacent though, GM is targeting a 2017 release of an electric vehicle that can go more than 200 miles on a single charge and cost less than $40,000 and Apple Inc. has been working secretly on an electric vehicle that may begin production as early as 2020, Bloomberg News reported last week.
Consumer Reports Magazine's Best Cars by Category



Best Overall: Tesla Model S
Luxury Car: Audi A6
Sports Sedan: Buick Regal
Midsized Sedan: Subaru Legacy
Large Car: Chevrolet Impala
Green Car: Toyota Prius
Compact Car: Subaru Impreza
Small SUV: Subaru Forester
Midsized SUV: Toyota Highlander
Minivan: Honda Odyssey



Consumer Reports Magazine's Brand Rankings



(1) Lexus
(2) Mazda
(3) Toyota
(4) Audi
(5) Subaru
(6) Porsche
(7) Buick
(8) Honda
(9) Kia
(10) BMW
(11) Acura
(12) Volvo
(13) Hyundai
(14) GMC
(15) Volkswagen
(16) Lincoln
(17) Infiniti
(18) Nissan
(19) Chevrolet
(20) Cadillac
(21) Mercedes-Benz
(22) Scion
(23) Chrysler
(24) Ford
(25) Dodge
(26) Mini
(27) Jeep
(28) Fiat


Source: Consumer Reports
Before it's here, it's on the Bloomberg Terminal.
LEARN MORE