Fast food's public image is far from healthy, which is why virtually nobody finds it surprising when a classic burger-fries-soda meal exceeds 1,000 calories. Tally the calories in the typical Chipotle Mexican Grill serving, as the New York Times did this week, and the burrito-eating masses recoil. How can that lunch order, made from ingredients whose wholesomeness is endlessly touted by Chipotle, contain about 1,070 calories? That typical burrito, including cheese and sour cream, comes to more more than half of the daily recommended calorie intake.
Despite a carefully cultivated feel-good, guilt-free aura, Chipotle is quite frank about its indifference to calorie counting. Food, insists spokesman Chris Arnold, is "something to be enjoyed. Not a science experiment aimed at engineering away calories or grams of fat."
It's an attitude that put Chipotle outside the mainstream of fast-food menus, which are working overtime to address the calorie-bomb image. McDonald's, for instance, has promised to "reduce salt/sodium, sugar, saturated fat or calories across the menu" (PDF). Pizza Hut's new menu likewise offers "Skinny Pizzas" containing 250 calories or less per slice.
The Times story about Chipotle's calories, along with the so-called shaming tweets that resulted, shows how marketing "food with integrity"—a concept that encompasses things from animal welfare to sourcing fresh, local ingredients—can deliver an impression of healthy burritos that isn't supported by the nutrition numbers. The calorie count surprised readers enough to keep the story on the most-read list for days.
Chipotle has so far managed to avoid getting saddled with the unhealthy reputation of its fast-food peers even though the high-calorie revelation isn't even news. Here's a 2010 article comparing a Chipotle burrito to a Big Mac, with the conclusion that neither option "deserves anything close to a nutritional gold star." Yet the Mexican grill's sales has continued to grow every year since, including a 16.8 percent increase in same-store sales in 2014, while McDonald's continues to battle both declining sales performance and its reputation for bolstering obesity.
When it comes to calories, Chipotle seems happy to leave that responsibility to the customer. Since people pick exactly what goes into their burritos, tacos, and bowls, Arnold says, the company can meet a range of dietary preferences without developing specific low-calorie, gluten-free, low-carb, Paleo, or vegetarian menus. "People can pick and choose exactly what―and how much―they eat," he says. "We let them put those ingredients together in whatever way makes sense to them."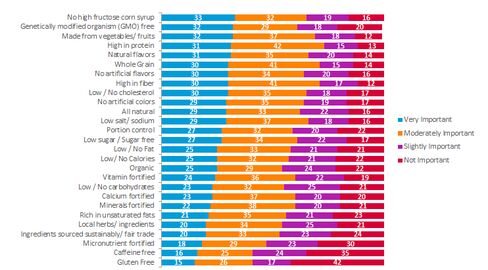 Another reason Chipotle may not be frazzled: Cutting calories, although critical to fighting obesity, seems to have fallen off consumers' radar. In a recent Nielsen survey (shown in the chart above), calories ranked No. 16 among qualities described by consumers as very important when purchasing food. Avoiding high-fructose corn syrup topped the ranking, and even the disputed health benefits of GMO-free foods surpassed reduced calories.
Soon, however, the high-calorie burrito won't come as a surprise even to the most blinkered lunchtime customer: By the end of the year, Chipotle will post calorie counts on menus nationwide as required by the Affordable Care Act.
Before it's here, it's on the Bloomberg Terminal.
LEARN MORE