Student-Loan Delinquencies Rise in U.S.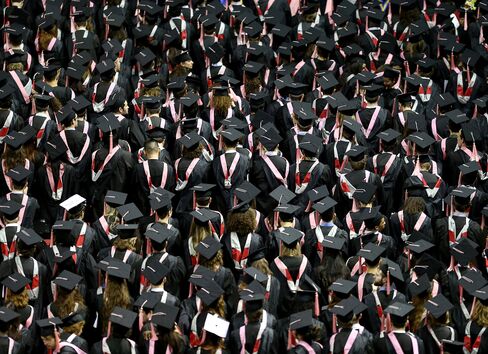 Student-loan delinquencies increased at the end of 2014, a troubling sign that Americans are failing to keep up with payments as education debt climbs, according to the Federal Reserve Bank of New York.
Data from the New York Fed released Tuesday showed 11.3 percent of student loans were delinquent in the final three months of 2014, up from 11.1 percent in the prior quarter. The share of auto loans at least 90 days overdue also rose, climbing to 3.5 percent from 3.1 percent the prior period, even as fewer credit card and mortgage loan payments were late.
"Although we've seen an overall improvement in delinquency rates since the Great Recession, the increasing trend in student-loan balances and delinquencies is concerning," Donghoon Lee, research officer at the New York Fed, said in an e-mailed statement. "Student-loan delinquencies and repayment problems appear to be reducing borrowers' ability to form their own households."
The nation's student-loan balance climbed by $31 billion last quarter to $1.16 trillion. That makes it the largest source of debt after mortgages, which gained $39 billion to $8.2 trillion in the fourth quarter. Auto-loan debt increased by $21 billion to $955 billion.
Education loan balances have skyrocketed over the past decade. In the first quarter of 2005, outstanding student debt stood at $363 billion -- about a third of the current level, based on a 2013 New York Fed report.
Delinquency rates for student loans probably understate the actual situation, according to today's report. About half of the student loans are in deferment, in grace periods or in forbearance, temporarily removing them from the repayment cycle.
Education debt delinquency levels have come down since 2013, when the rate reached 11.8 percent, yet remain elevated from around 6 percent a decade ago, according to the New York Fed. Student loans are the type of debt most likely to be past-due, having surpassed credit-card delinquency rates in 2012.
Before it's here, it's on the Bloomberg Terminal.
LEARN MORE