Show-Winning Dog Semen Is a Bargain at $2,000
Decades-old sperm from prize-winning dogs is being used to breed a new generation of Westminster Dog Show hopefuls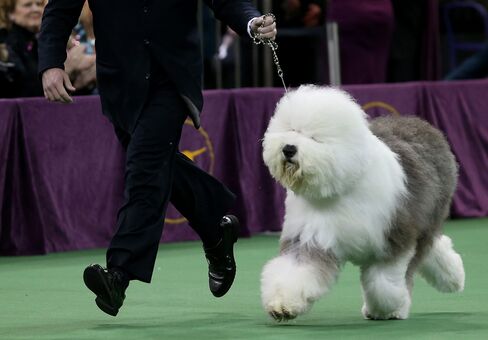 Yoshi, an Old English Sheep Dog owned by Jere Marder, was cheerful and friendly and so fluffy that when he was groomed, you couldn't see his eyes. Under his registered name, Lambluv Desert Dancer, Yoshi won 64 Best in Show awards—more than any other dog in the breed's history— and took Best of Breed at the Westminster Dog Show three times, most recently in 1999. That was a long time ago, especially in dog years, and Yoshi died in 2006. But Marder still breeds him. "I have about 100 straws!" she says—referring to Yoshi's frozen semen samples that she will use to breed additional children.
Marder owns Lambluv Old English Sheepdogs, which is based in Indiana and sells show-quality puppies for prices starting at $2,500. Most of her dogs are bred the old-fashioned way; for others, Marder relies on animals long since passed. Last year, second place in Westminster's Best in Breed category went to a sheepdog who came from one of Lambluv's dog's 17-year-old sperm.
Veterinarians have been artificially inseminating dogs with frozen semen since the 1960s. Back then, the technology was pretty rudimentary—more of a scientific experiment. As technology and conception rates improved, professional dog breeders adopted the technique as a way to replenish dogs' bloodlines without reaching too far out into the gene pool and running the risk that the next generations of dogs wouldn't win any prizes. "Most serious breeders that I know of have something in store," says Marder. "If anything, it's just a precaution; otherwise, if anything happens to your champion dog before you can breed him, you're out a good chunk of money."
"It's definitely a market—and one that's growing," says Randall Popkin, owner of the California-based Breeder's Veterinary Services. Popkin, whose company provides ambulatory care at dog shows along the West Coast, has been storing frozen semen and inseminating dogs with it since 1984. He estimates that he has stored samples from 1500 dogs over the years; the oldest sample that successfully produced puppies was 27 years old. "When I first started, few breeders were doing this. Nowadays, you travel to dog shows and there'll be three companies there offering to freeze your dog's semen."
According to the American Kennel Club, the number of registered purebred litters conceived with frozen semen has risen by 26 percent over the past decade. In 2013, the year for which the most recent data is available, the AKC registered about 2,200 litters. That's only 1 percent of all AKC-approved liters, which means that most breeders still prefer the natural way. For her part, Marder says she's sold frozen semen only twice within the past year; she charges $2,000 for a sample, which is either a great bargain (an entire litter of puppies for less than the price of one) or a terrible one—if the sample doesn't take.
One of the oldest companies is the International Canine Semen Bank (ICSB), which is headquartered in Oregon and still has frozen samples that date back to the 1970s. ICSB, which has partnerships with over 50 animal hospitals around the world, charges a little over $300 for the first donation, and $200 for each additional one. There's an annual storage fee (the samples are kept in liquid nitrogen) and an insemination fee, which means costs quickly add up. Still, it's cheaper than shipping an adult dog across the country to be bred, which often happens in the dog show business. Most of the sperm bank's customers are breeders who store samples from more than one dog.
"There are downsides to this," Popkin admits, "If a dog is beautiful and does well in shows, people will want to breed them, even if they have a health [problem] that, in a livestock animal for example, would make you want them eliminated from the gene pool."
Other things can go wrong. In 2009, a Pembroke Welsh corgi breeder sued an animal hospital after her dog was allegedly inseminated with sperm from a Great Pyrenees—a breed that's roughly five times the size of a corgi—and nearly died giving birth. There have been lawsuits over samples that were damaged during shipping or produced puppies that didn't look purebred. In 2012, a jury awarded $200,000 to a Pennsylvania breeder who had sued a veterinary hospital for accidentally defrosting (and thus destroying) more than 100 samples from her champion poodles.
Marder is sitting out Westminster this year but hopes to return in the future, possibly with one of Yoshi's yet-to-be-born offspring. She says that winning with a new generation somehow feels to her as if she's keeping her old dogs alive. "I just wish I had known to do this when I had my first winning dog, Beachboy, but that was back in 1979," she says. "It's a shame I never got him collected."
Before it's here, it's on the Bloomberg Terminal.
LEARN MORE