Italy Mulls Intervention in Libya to Halt Islamic State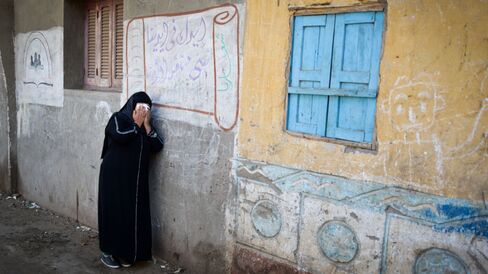 Italy's government will brief parliament this week on the deteriorating situation in Libya as Prime Minister Matteo Renzi considers military intervention to halt the advance of Islamic State on his Mediterranean doorstep.
Italy is ready to send more than 5,000 soldiers under a United Nations mandate to stop Islamic State, "which is now 350 kilometers from our shores," Foreign Minister Roberta Pinotti said in an interview published Sunday in newspaper Il Messaggero. "We've been discussing it for months, but now the need for intervention has become urgent."
A power struggle between Islamists and the elected Libyan government has divided the country, driving it further into chaos and forcing most of the remaining foreign nationals to head home. The Italian Foreign Ministry said Sunday the embassy in Tripoli was forced to suspend its activities and Italians were advised to leave the country due to "deteriorating security conditions."
Images of repatriated Italians stepping off planes looking bewildered are being aired continuously on Italian television along with debates on the pros and cons of intervention amid what is being termed a direct threat to national security. Italian oil giant Eni SpA is Libya's biggest foreign oil producer.
On Monday, Egypt's military said it bombed Islamic State targets in Libya in retaliation for the beheading of 21 Egyptian Christians. In a video purportedly by Islamic State fighters showing the beheadings, Italy is also threatened.
'Extraordinary Engagement'
Gentiloni said in a statement that he will report to Parliament on Thursday amid a "worsening situation" which calls for "extraordinary engagement and a greater assumption of responsibility."
The security vacuum in Libya created after Muammar Qaddafi's ouster over three years ago has deepened, allowing militant groups such as Islamic State to take root in the oil-rich North African nation. Italy, as the former colonial power and a net importer of oil and natural gas, is at the forefront of the political, economic and humanitarian spillover as refugees flee northward across the Mediterranean.
"From a strategic point of view, Libya is crucial for Italy," said Nicoletta Pirozzi, senior research fellow specialized in EU-Africa relations at the Institute for International Affairs in Rome. "It's an energy security issue, it's a immigration and internal security issue, and it's fast becoming a terrorism issue, with direct threats leveled at it."
'Wisdom, Prudence'
Renzi, who brought up Libya at last week's European Union summit, said Monday that Italy will only consider intervention with the consent of the UN Security Council, softening the tone of remarks made over the weekend by fellow cabinet members.
That approach may help avoid a backlash from those members of his governing majority such as Rosa Calipari, deputy head of the Chamber of Deputies' Defense Committee, who urge caution on military intervention.
"On Libya, wisdom, prudence and a sense of the situation is required," Renzi said in an interview with TG5 television news. "There is no need to jump from total indifference to hysteria and an unreasonable reaction."
Italy has a long and turbulent history with the North African country, which was occupied following the Italo-Turkish war of 1911-1912. Even after Quaddafi forced Italian citizens residing in Libya out of the country in 1970, Italy continued to do business there, with Eni at the forefront.
Oil Output
Increased violence has battered oil output in Libya. Production fell to 350,000 barrels a day in January compared to 1.6 million barrels a day before Qaddafi was toppled in 2011, a spokesman for Libya's National Oil company said Sunday. National Oil Corp. said over the week-end that it will stop pumping at all fields if authorities fail to contain attacks that are endangering workers.
That threatens to hurt Italy, which is heavily dependent on imports to meet its energy needs and counts Libya as a main crude oil supplier along with Azerbaijan, Saudi Arabia and Russia, according to data from the U.S. Energy Information Administration. Italy gets about 21 percent of its oil and 10 percent of its natural gas from Libya.
Eni CEO Claudio Descalzi said in December that the increased violence and chaos in Libya were "a big concern." Eni said in a reply to e-mailed questions that production is continuing at this time and that the company is "carefully monitoring" the situation.
Vessel Threatened
Italy is meanwhile receiving increasing numbers of refugees from Libya, causing a humanitarian emergency in the Mediterranean sea. On Sunday, Italian rescue teams identified several boats carrying over 2000 migrants in Libyan waters south of the Italian island of Lampedusa. An Italian coast guard vessel was threatened by armed men during a rescue operation, according to newswire Ansa.
"Italy runs the risk of getting involved in an intervention that leaves too many unanswered questions," said Pirozzi. "This is a risky undertaking both for internal reasons because it creates tensions withing Renzi's majority but also for strictly practical reasons."
Before it's here, it's on the Bloomberg Terminal.
LEARN MORE