Michele Ferrero, Owner of Nutella Confectioner, Dies at Age 89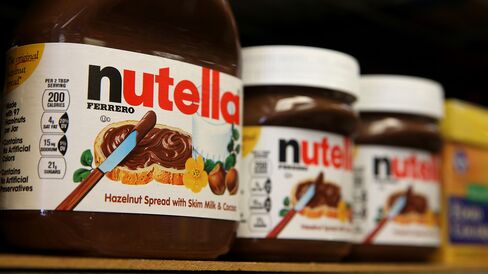 Michele Ferrero, Italy's richest person and owner of the Ferrero Group, the maker of Nutella spread and Kinder Surprise chocolate eggs, has died. He was 89.
He died Saturday after months of illness, the Alba, Italy-based company said in a statement. Its former chairman, Ferrero lived in Monte Carlo with his wife, Maria Franca.
Ferrero built the business founded by his parents in the 1940s into one of the world's biggest confectionery companies, introducing Kinder snacks and Nutella in the 1960s and Ferrero Rocher chocolate candy two decades later. His sons Pietro and Giovanni ran the Luxembourg-based holding company, Ferrero International SA, as joint chief executive officers from 1997 until Pietro, the eldest, died at 47 while riding a bicycle in South Africa in April 2011.
Michele Ferrero's net worth of $22.3 billion ranked him 31st, the highest of any Italian, on the Bloomberg Billionaires Index, as of February 2015.
Ferrero is the world's fifth-largest confectionery company by revenue after Mars Inc., Mondelez International Inc., Nestle SA and Meiji Holdings Co., according to industry magazine Candy Industry.
Michele Ferrero, who started at the company in 1950, avoided acquisitions, while newspapers including Il Sole 24 Ore reported that his sons saw a merger as an opportunity.
Ferrero considered joining a takeover battle for Parmalat SpA in 2011 as part of a government-backed group of Italian investors trying to block France's Groupe Lactalis SA from gaining control of Italy's biggest dairy company. In 2009, Ferrero weighed and then decided against making a bid for Cadbury Plc, before it was bought by Kraft Foods Group Inc.
Pastries to Nutella
Michele Ferrero was born on April 26, 1925, in Dogliani, Italy, to Piera and Pietro Ferrero. His parents transformed a small coffee bar and pastry shop in Piedmont, Italy, into a sweets factory in 1946. With cocoa expensive as Italy rebuilt from war, the company experimented with locally abundant nuts as a substitute ingredient, according to its website. Using a cocoa-hazelnut base, Ferrero developed Nutella, wildly popular the world over.
The company, which introduced Tic Tac mints in 1969, had sales of more than 8.41 billion euros ($9.58 billion) in the fiscal year ended Aug. 31, 2014, up about 4 percent. More recent innovations include Gran Soleil, a dessert stored at room temperature that turns into a sorbet when shaken and frozen. Ferrero has more than 24,400 employees and 20 plants globally.
Michele Ferrero, whose motto was "work, create, donate," established a foundation in 1983 for former employees that now awards study grants and scholarships.
Before it's here, it's on the Bloomberg Terminal.
LEARN MORE