Italy's Economy Fails to Rebound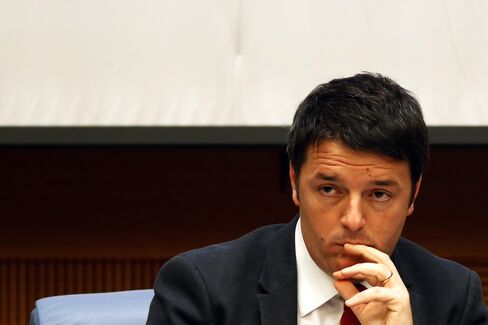 Italy's economy stagnated in the three months through December, failing to rebound from its longest recession on record.
Gross domestic product was unchanged from the previous quarter when it dropped 0.1 percent, national statistics institute Istat said in a preliminary report in Rome Friday. The median forecast in a Bloomberg News survey of 19 economists called for a drop of 0.1 percent. From a year earlier, GDP fell 0.3 percent.
The euro region's third-biggest economy may halt its slump in 2015 as both domestic and foreign demands rise, employers lobby Confindustria said this week. Its report was released after industrial output data showed a 0.4 percent increase in December that Confindustria said was probably followed by a further rise last month.
The fourth quarter "should mark the end of Italy's long recession," Paolo Mameli, senior economist at Intesa Sanpaolo SpA in Milan, said in a note after the Istat data were released. "The indications provided by recent data confirm our forecast for a return to positive growth as soon as in the current quarter."
There might be "positive surprises" in store for the Italian economy as it benefits from lower oil prices and a cheaper euro that helps exports, Finance Minister Pier Carlo Padoan said Feb. 9.
As of the end of last year, Italy's economy had not grown since the second quarter of 2011.
Hard Struggle
Italy's GDP will expand 0.6 percent this year and 1.3 percent next, the European Commission forecast last week. The projected rise for 2015 is the second-lowest after Cyprus among the 19 members of the euro region.
"Italy is among the countries that are struggling hardest to make a start on the road to recovery," Bank of Italy Governor Ignazio Visco said in a Feb. 7 speech, adding that the economy may expand more than 0.5 percent this year. That's above the 0.4 percent growth projected in a report published by the Rome-based central bank last month.
The industrial output data for December show Italy's economic situation is improving, Visco told reporters this week in Istanbul where he attended a meeting of central bankers and Finance Ministers from the Group of 20 nations.
Prime Minister Matteo Renzi, 40, took office a year ago with a promise to pull the country out of recession, which has lasted for more than three years. He has been hindered by unemployment consistenly above 12.5 percent and falling consumer prices.
Before it's here, it's on the Bloomberg Terminal.
LEARN MORE