Musk's March to $700 Billion Tesla Valuation Gets a Rough Start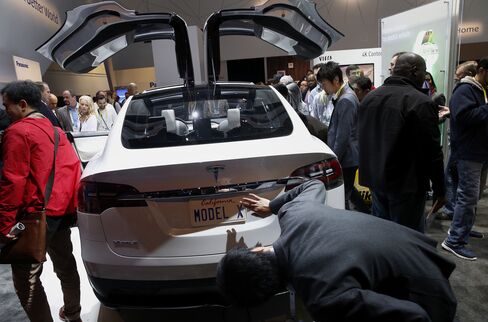 Elon Musk on Wednesday sketched out an ambitious path for Tesla Motors Inc.'s market valuation to rocket to $700 billion from about $25 billion. Instead, Tesla shares tumbled on Thursday. Not a roaring start.
Tesla fell as much as 9.2 percent after the Palo Alto, California-based automaker reported a fourth-quarter loss of 13 cents a share when analysts had anticipated a profit of 32 cents a share. In addition to the company missing targets on deliveries, revenue and profit, some analysts were taken aback by the $1.5 billion in capital expenditures planned for this year.
"We're going to spend staggering amounts of money on capex," Musk said on a conference call with analysts. That use of cash will pay off over time, he said: At the rate it's growing, if all goes right, Tesla could be worth as much as Apple Inc., the world's largest company by market valuation in about a decade.
Here's how Musk's back-of-the-envelope math works: With 2015 revenue of about $6 billion and growing at 50 percent a year for 10 years with a 10 percent profit margin and a price-to-earnings ratio of 20, the future Tesla could be valued at about $700 billion, Musk said.
"Our market cap would be basically the same as Apple's is today," Musk said.
The 2015 investments exceeded JPMorgan Chase & Co.'s $900 million estimate and almost doubled Morgan Stanley's projected expenditures, analysts from those banks said in notes. Musk's vision for a huge company -- not simply a maker of high-end, high-performance, high-margin autos -- surprised Morgan Stanley's Adam Jonas, whose note was headlined "TSLA Pushes the 'Insane Button' on Capex."
Tesla fell 5.4 percent to $201.40 at 3:08 p.m. New York time after earlier reaching $193.28, the lowest intraday price in three weeks. Shares that rose eightfold over 18 months to Sept. 4, lost a quarter of their value by Wednesday's close, before the fourth-quarter results were announced.
Still Growing
Tesla, which now has 10,000 employees, delivered a record 9,834 vehicles, missing the average analyst estimate by almost 1,000 and its own goal by 1,345.
The shortfalls, which Musk blamed on shipping problems, the winter weather and customers' holiday travel, raised questions about the company's ability to maintain profitability while building cars faster and faster. JPMorgan said a second straight quarter of profit margins below estimates related to production challenges, such as securing as many high-end seat options as customers wanted, led it to downgrade the stock to underweight from neutral.
The past two quarters "highlight the execution risk associated with scaling production," Ryan Brinkman, the JPMorgan analyst, wrote in a note to investors.
The company said too many cars were finished at the end of the year and about 1,400 deliveries slipped from December to the first quarter. With a backlog of orders equal to projected first-quarter production, Tesla bumped up its forecast for deliveries this year by 10 percent to 55,000 -- 74 percent more than last year's total. Deliveries rose 41 percent from 2013.
Growing to an Apple-sized valuation, estimated Brian Johnson, an analyst with Barclays, implies about 8 million vehicle sales a year by 2025.
Startup Story
The smallest and youngest publicly held U.S. automaker is investing heavily in growth as it works to increase production, build a massive battery "gigafactory" and add a second and third vehicle -- the Model X and the Model 3 -- to its lineup.
Tesla's gross margins are among the highest in the industry, reflecting the high prices the Model S can command relative to the cost of production, according to data compiled by Bloomberg. Including product-development and other costs, Tesla is the only unprofitable automaker among the world's 20 largest on the basis of market valuation, the data show.
While Tesla's shares slipped 4.3 percent this year through Wednesday, they rose almost sevenfold during the past three years, the best among global automakers, according to data compiled by Bloomberg. During that time, its price-to-sales ratio almost doubled to 14 from 7.8, while the market-cap weighted average for the industry slipped to 0.79 from 0.89.
About 55 percent of Tesla's 2014 deliveries were in North America, 30 percent in Europe and 15 percent in the Asia/Pacific region, Tesla said in the letter to shareholders. The company had said it expects vehicle sales ultimately to be pretty evenly divided among the three regions.
China Charging
Musk said last month that sales in China have declined in recent months because consumers have been reluctant to switch to electric vehicles due to perceptions that home charging is difficult and that public chargers are too scarce.
He said lack of demand in China wasn't the reason for the fourth-quarter miss and won't limit vehicle sales this year, stressing that Tesla would reach the 55,000-vehicle target even if it sold no cars in China.
"In the long term, we do want to succeed in China and make sure we are doing a good job," he said. "The biggest issue that we are fighting to address is the perception that it's difficult to charge in China."
To that end, Musk has elevated Tom Zhu, an engineer who had led the Supercharger rollout in China, to put him in charge of strategy in the country. Tesla said it will install chargers at buyers' homes well before the vehicle is delivered, which Musk said rivals already do in China. The automaker is also adding features such as executive seats and a second-row center console for owners who are driven.
Tesla didn't report how many deliveries it made to customers in China.
"They got off on the wrong foot in China, and it's going to take more time to figure it out," said Theo O'Neill, an analyst with Ascendiant Capital Markets.
Model X
Offering a sport-utility model is as important in China as it is in the U.S.
The company said it has received almost 20,000 reservations for its Model X SUV and entered the year with a backlog of 10,000 Model S orders. Tesla will begin shipping the oft-delayed Model X to customers in six months, Musk and Chief Financial Officer Deepak Ahuja said in a letter to shareholders.
Analysts such as San Francisco-based Ben Kallo with Robert W. Baird & Co. were cheered that it remains on track for the third quarter, as Musk said in November.
Demand for the sedan was spurred by the addition of all-wheel-drive versions of the car and capabilities such as adaptive cruise control and automatic high-beam dimming. New features will be added in the first and second quarters, Tesla said.
The company said it will be able to assemble 2,000 vehicles a week by the end of 2015 as it works toward 500,000 autos a year by 2020 and millions by 2025 -- targets Musk outlined last month in Detroit.
Despite missing estimates on deliveries, revenue and profit, which have been anticipated since Musk's comments about China in January, the report was positive, Kallo said.
Tesla "doesn't need to raise capital in the near term, should debut new grid storage products, feels comfortable with 2017 Model 3 launch, and the gigafactory remains on track," he said in a note on Thursday, titled "If It Were Easy Everyone Would Do It."
Before it's here, it's on the Bloomberg Terminal.
LEARN MORE