Tesla Is Getting Squeezed by BMW and Nissan
The little Nissan Leaf is crushing the slick Silicon Valley machine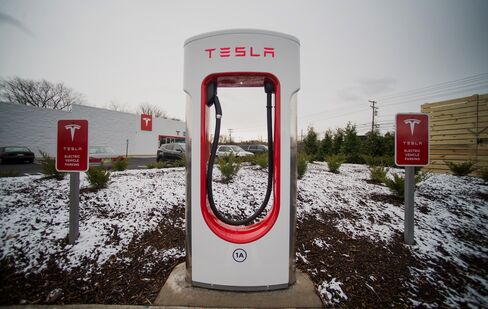 In the last quarter of 2014, U.S. drivers clamored for electric cars, but most of them came from an old-fashioned Japanese carmaker, not a Silicon Valley startup.
Customers quietly zipped out of dealerships in 8,400 Nissan Leafs, 80 percent more vehicles than Tesla managed to sell in the U.S.
Meanwhile, Tesla delivered just 9,834 vehicles worldwide, less than it had hoped for. The company blamed the slump, in part, on customers being on vacation.
In the last three months of last year, Chevrolet, between its Volt model and its Spark, almost matched Tesla in U.S. electric car sales even as gas prices plummeted. And at the higher end of the green-car market, BMW closed the gap, selling almost 3,000 of its model i3.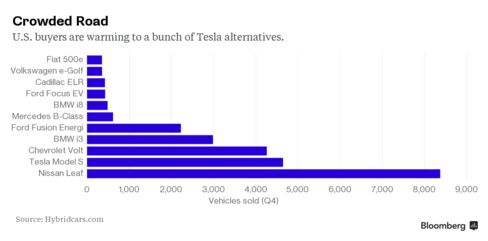 To be sure, there is still nothing on the market like a Tesla. BMW can match it on plushness but not on range. The German giant's i3 goes just 81 miles between charges, while a carefully driven Model S can whisper up to 265 miles. Nissan, meanwhile, doesn't come close to beating Tesla on either distance or opulence, but the Leaf can be had for just less than $30,000. A family can buy two of them for less than a Model S.
Tesla investors (and executives) have long focused on production&mdsh;how many vehicles the company can roll off of assembly lines in any given period. And rightly so. At the moment, that's where the swanky rubber hits the road. Demand has been an afterthought, but it won't be much longer.
That's why it's so critical for Tesla to roll out a couple more models. Tesla's model X, an SUV promised to ship in August, may find some open road when it finally gets on the market, but the longer it is delayed, the more likely it is to face a competing product from a company such as BMW, which excels at standard SUVs.
Meanwhile, an affordable Tesla is also in the works. But the promised $35,000 price tag would still be at a premium to Nissan's little Leaf.
Before it's here, it's on the Bloomberg Terminal.
LEARN MORE