No One Can Stop Craigslist, but Facebook Is Trying Again
Aesthetics aside, it's not easy to compete with Craigslist, a company that doesn't seem to care much about revenue or profit
Facebook is adding a new way for people to sell things to friends and neighbors on the social network. The company said on Tuesday that it will start rolling out new features to Facebook Groups, allowing users to list and find products for sale and to set pickup or delivery locations.
The feature is new, but the strategy—to compete with Craigslist—is a redo for Facebook. The company launched Facebook Marketplace in 2007 for selling used goods and finding housing. Two years later, Facebook offloaded Marketplace to a third party called Oodle.
Mark Zuckerberg isn't the only one in Silicon Valley with Craigslist envy. A decade ago, Google tried to meld classified ads with other crowdsourced content in a website called Google Base. The service never took off, and it now redirects to a site soliciting retailers to list on Google's shopping search engine. Along with the big companies, countless startups have set out to make prettier, more functional versions of Craigslist, only to fail.
There's a lot of talk in Silicon Valley about how important it is to have a user-friendly product with sleek design that's built with smartphones in mind. So how has Craigslist, arguably one of the ugliest sites on the Internet, survived? Seriously, it has barely changed in 10 years. Here's the site in 2005: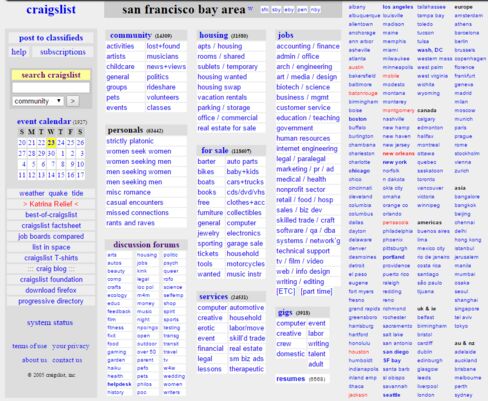 And here's the site today. The Craigslist network effect is simple and has nothing to do with design. It works like this: Sellers keep posting stuff on Craigslist, so buyers keep checking it.
"One of the things that a lot of people get wrong when they look at marketplace businesses is they think it's all about this beautiful user experience," says Brian O'Malley, a venture capitalist at Accel Partners, which is an investor in the crafts website Etsy. "But people like Craigslist because you can go and you feel like it's comprehensive. It's less about how you merchandise an item, and it's more about having the right items."
Whether or not sellers also post their goods on EBay, Nextdoor, or Facebook, buyers go to Craigslist to make sure they're seeing all of their options. Craigslist gets 50 billion page views per month in the U.S. alone, according to the company's fact sheet.
"We'll meet with companies frequently, where they'll show us how much more beautiful their product is than Craigslist, but the challenge is: How do you migrate people over?" O'Malley says. "It's a chicken-and-egg problem."
Craigslist, which declined to comment, has been making small improvements to its design over the past year. Apartment hunters can now flip through photos of kitchens and bedrooms from the search results page without clicking to view the full post. "Still, it has none of the features you imagine today would be necessary for a marketplace," says Joshua Goldman, a partner at Norwest Venture Partners. "No identity component, no verification system, no integrated payments, no trust and safety, no mobile strategy, or official app, or anything."
Some enterprising programmers have tried to ride Craigslist's coattails by filtering and displaying data from the site in new ways. Craigslist hasn't generally been supportive of unofficial tools and sued two developers—3Taps and PadMapper—in 2012. A few startups have been successful at chipping away at small pieces of Craigslist's empire. Threadflip is building a business for second-hand clothing. Airbnb is becoming the place to look for vacation rentals, Tinder for dating and hookups, and TaskRabbit for odd jobs, O'Malley says.
Craigslist, which has been around for two decades, doesn't collect listing fees on most classifieds, and it doesn't seem particularly concerned with making a ton of money or going public. That allows the service to remain largely free for everyone. While it doesn't conform to the latest design trends, Craigslist is pretty good at what it does, making it difficult for even Facebook, Google or another tech giant to muscle in.
"If you're a really large company and have a really wide audience, it's easier to just throw it out to the masses, but it's hard to be narrowly focused," says O'Malley. "Think about the early days of Beanie Babies on EBay. It starts out very niche and does one thing really well and then grows from there."
In case you happen to be in the market, there are a ton of Beanie Babies for sale on Craigslist.
Before it's here, it's on the Bloomberg Terminal.
LEARN MORE