German Finance Minister Schaeuble Just Poured Cold Water on Market Expectations for a Greece Deal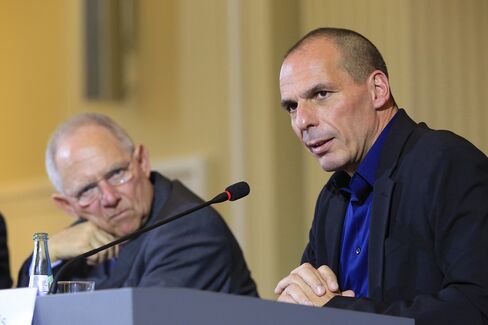 Speaking after the G-20 meeting in Istanbul today, German finance minister Wolfgang Schaeuble doused cold water on market expectations of a positive outcome ahead of tomorrow's emergency meeting of euro area finance ministers.
*SCHAEUBLE: REPORT COMMISSION TO GRANT GREECE 6 MONTHS `WRONG'
*SCHAEUBLE: MINISTERS WON'T AGREE NEW GREEK PROGRAM TOMORROW
*SCHAEUBLE: NOBODY OUTSIDE GREECE TO BE BLAMED FOR GREEK WOES
During the day there were increased expectations that a deal could be reached at tomorrow's meeting, which lead to a recovery in Greece stocks and bonds.
Schaeuble's comments indicate that those expectations are premature, and that the two sides are still officially far apart.
Last time Schaeuble met Greek Finance Minister Yanis Varoufakis they could not even agree to disagree. Perhaps an agreement to disagree and to continue negotiations is the best markets can hope for from tomorrow.
Before it's here, it's on the Bloomberg Terminal.
LEARN MORE