Now is definitely not the time for a Russian shopping spree.
Thanks to an epic collapse in the ruble, price growth has hit crisis levels in Russia: Inflation reached 15 percent in January. Even worse, there's little respite in sight. Inflation will average 13 percent in 2015, according to the median forecast of economists surveyed by Bloomberg.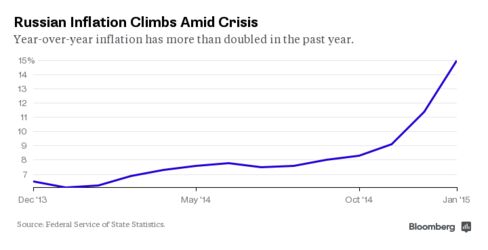 Food prices rose 21 percent in January from last year, with sugar jumping 68 percent. Grains and legumes saw a 45 percent spike, while fruit and vegetable prices climbed 41 percent. Luckily, alcohol inflation has tracked at a relatively tamer 14 percent.
The surge in cost of living has come at an especially painful time for Russian consumers, who are already battling a double-whammy to the economy: tumbling oil prices and the sanctions imposed over the Ukraine conflict (these are the two factors that have been driving the currency's collapse -- which in turn has been spurring inflation -- too).
The unfavorable mix means the Russian economy will probably shrink 4 percent this year, according to the median projection in a separate Bloomberg poll.
Russia is in good company, with five peers in double-digit inflation territory. Argentina probably will have about 22.5 percent inflation this year, and Ukraine is headed for 17.5 percent price growth. Egypt and Ghana also sit in the two-digit club, with 10.6 percent and 13.2 percent estimates, respectively. All are dwarfed by Venezuela's 72.3 percent projected price growth in 2015.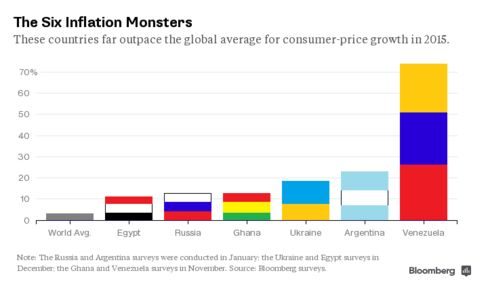 Rapid price increases are often one factor in a toxic mix for these economies. The drop in oil prices and revenues means Venezuela has little cash to pay for all the consumer goods it imports. That leads to even deeper shortages of everything from diapers to sugar, which drive up costs further. Venezuelans have become accustomed to waiting in lines that stretch around city blocks in the hopes of buying basic goods.
Argentina isn't far behind. A run on tampons in Buenos Aires last month had Argentine women paying premium prices for the monthly necessity. The nation is grappling with dollar shortages and likely fell into a recession in the fourth quarter.
Before it's here, it's on the Bloomberg Terminal.
LEARN MORE