India Set to Outperform BRICs for First Time Since '99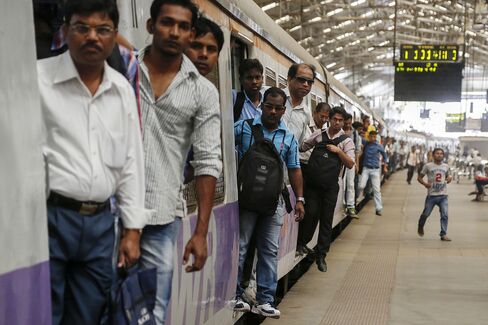 India may be the last BRIC standing.
As Brazil, Russia and China hit hurdles, it's the poorest member of Goldman Sachs Group Inc.'s emerging-market group that's proving a darling of global investors. The International Monetary Fund is predicting India will next year grow faster than each of its BRIC counterparts for the first time since 1999.
So far this year, more than $7 billion has poured into the country's stocks and bonds, on top of last year's $42 billion of inflows. The country's benchmark equity index reached a record at the end of last month. Falling oil prices are helping the government reduce its budget deficit and giving room to the central bank to lower interest rates.
Adding luster are Prime Minister Narendra Modi's pledges to make it easier for businesses to invest in India, and the determination by the central bank, helmed by former IMF chief economist Raghuram Rajan, to keep inflation contained.
Since taking office in May, Modi has started cutting red tape, implored manufacturers to move factories to his nation and used executive orders to pressure parliament to approve bills that would spur investment in insurance and coal.
Over at the Reserve Bank of India, Rajan successfully shored up the rupee after it fell to a record low in 2013. He then held off on cutting interest rates until last month, when evidence showed inflation was heading below his target.
Market Confidence
"There are probably more positive stories to tell about India than there are about the other BRICs at this stage," said Neil Shearing, chief emerging markets economist at Capital Economics Ltd. in London. "The market has corralled behind Mr. Modi and the idea of very rapid growth."
India isn't without its challenges as it continues to play catch-up with other major developing nations. Its gross domestic product per capita, at $1,165 as of 2013, is less than a third of China's $3,583, according to World Bank data.
When China was at India's level of development, it went on to record average economic growth of about 10 percent over the following decade. Beset by power shortages, transport bottlenecks and a dearth of skilled labor, few forecasters see India emulating that performance.
"There's huge potential in India, but the optimists may have got a bit ahead of themselves," said Shearing. "The jury is still out, but by the end of the year we'll know more."
IMF Outlook
When the IMF last month revised its economic forecasts, it barely changed its outlook for India while slashing those for this year and next in Brazil, Russia and China. It predicts growth of 6.5 percent next year, compared with China's 6.3 percent.
Brazil has been pounded by the collapse in commodity prices as its policy makers face a looming recession and run up record budget deficits. The biggest drought in decades is adding to the pressure, and the real dropped 18 percent against the dollar in the past six months.
In a sign of the times, onetime darling state-run oil giant Petroleo Brasileiro SA is mired in a corruption scandal that last week cost its chief executive officer her job. It has fallen short of growth targets and is now worth a fraction of its $310 billion 2008 market-peak.
Russia Crisis
As for Russia, its incursion into Ukraine has left it a pariah in financial markets, and a cocktail of sanctions, plunging oil prices and capital flight is propelling it toward recession. Inflation is running at the fastest pace since 2008, amid the worst currency crisis since the nation defaulted in 1998.
While China is faring better, its leaders are contending with capital outflows, depreciation pressure on the yuan and the risks of a property crash and deflation. The world's second largest economy is steadily decelerating, with last year recording the slowest pace of growth since 1990.
2015 Outperformer
"We expect India to be a relative outperformer in emerging markets in 2015," Tushar Poddar, an economist at Goldman Sachs in Mumbai, said in remarks on the year's outlook last month. He cited boosts from external demand thanks to many central banks easing policy, domestic rate cuts and pro-growth structural changes from the government.
Today, the Modi administration releases its updated estimate for GDP for the fiscal year through March. Rajan, for one, has underscored that his nation has plenty of work to do to assure a sustained pickup in growth.
"We're still sort of reaching the outskirts of the woods rather than out of them," the Reserve Bank Governor said in a Feb. 4 interview with Bloomberg TV India. "What I see in the Indian economy is a recovery."