Biden Snub Sharpens Israel Debate Over Netanyahu's Speech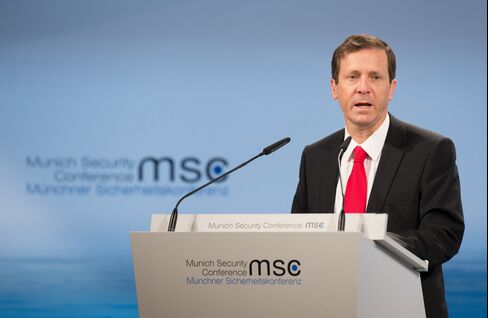 White House displeasure with Israeli Prime Minister Benjamin Netanyahu fueled new election-related bickering after Vice President Joe Biden decided he'll skip the Israeli leader's contentious speech to Congress.
Isaac Herzog, whose Labor-led Zionist Camp is slightly trailing Netanyahu's Likud in most polls, criticized the prime minister at the Munich Security Conference on Saturday for agreeing to address Congress on March 3 before getting President Barack Obama's approval. Likud officials on Sunday accused Herzog, who faces off against Netanyahu on March 17, of crossing "a red line" by criticizing the government at an international gathering and meeting there with Biden and Secretary of State John Kerry.
"While the prime minister tries to prevent a dangerous agreement between world powers and Iran, the opposition leader chooses to undermine Israel's position in the international arena," Likud said in an e-mailed statement.
Herzog said he spoke informally with Biden and Kerry after running into them in Munich, and defended calling Netanyahu's March 3 speech a "strategic mistake." The prime minister "is causing direct harm to our invaluable and unique" relationship with the U.S., he told Army Radio.
Labor lawmaker Shelly Yachimovich said on Facebook that Biden's exchange with Herzog was "proof that the only bridge to harmonious and proper communication in the international arena is the choice of Herzog as prime minister."
Conflicting Accounts
The White House disputed the Israeli accounts of the encounter. An official said Biden only greeted Herzog and Likud's Minister of Intelligence Yuval Steinitz at the conference in passing. No formal or informal meetings were held with either one, said the U.S. official, who wasn't authorized to comment on the record.
Netanyahu's address, at the invitation of House Republican Speaker John Boehner, has caused a furor in Democratic circles, and neither the president nor Kerry will meet with the Israeli leader during his Washington visit. Along with Biden, several Democratic lawmakers, including Representatives Earl Blumenauer of Oregon, John Lewis of Georgia, and G.K. Butterfield of North Carolina, have said they plan to skip the event. House Minority Leader Nancy Pelosi, a California Democrat, said she's weighing whether to attend.
Biden will be traveling internationally when Netanyahu speaks in Washington, an official with his office said. The person spoke on condition of anonymity because the plans haven't been announced. The trip has been planned for a while, the person said, without specifying how long.
Netanyahu sounded a defiant note Sunday amid the tensions with Obama, with whom he has sparred over peacemaking with the Palestinians and U.S. policy on Iran.
Israel will "do everything and will take any action to foil this bad and dangerous agreement" with Iran, Netanyahu said at the weekly cabinet meeting in Jerusalem. The current talks between Kerry and Iranian Foreign Minister Mohammad Javad Zarif in Munich, "at which they announced that they intended to complete a framework agreement by the end of March," have lent "urgency to our efforts," Netanyahu said, according to an e-mailed statement from his office.
Iran denies its nuclear program has a military aim and says it is meant for energy production and medical use.
Before it's here, it's on the Bloomberg Terminal.
LEARN MORE