Behind RadioShack's Collapse Is a Tiny Distressed Lender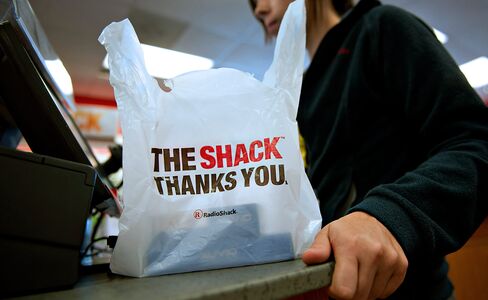 To most outside observers, the collapse of RadioShack Corp. was set in motion years, if not decades, ago.
Yet lost in that tale of inevitable decline is the story of how a little-known, distressed lender from Needham Heights, Massachusetts, helped sink the 94-year-old retailer into bankruptcy. It's a relationship that went so wrong, so quickly that at times it bordered on dysfunctional, highlighting in the process the vicissitudes that often plague troubled companies searching for emergency financing.
Even before the $250 million loan was disbursed in late 2013, RadioShack was threatening to sue the lender, Salus Capital Partners, for trying to back out of the deal, according to two people familiar with the transaction who asked not to be named because the talks were private. Months later, as RadioShack sought creditor approval to shutter stores in a bid to avert bankruptcy, Salus rejected the plan, which would have left fewer assets securing the loan. That refusal proved key in triggering last week's Chapter 11 filing.
The loan seemed headed for trouble from the outset, according to Michael Pachter, a retail analyst at Wedbush Securities Inc. in Los Angeles. "I could not understand why anybody would have put money in," he said.
For Salus and its president, Andy Moser, the deal was to be by far the biggest in the firm's short history. It'd move the lender beyond its small niche -- handing out loans of about $25 million to financially-troubled companies -- and put a high-profile deal in its portfolio that would get the attention of Wall Street bankers.
'Substandard' Loan
As of the end of last year, the loan accounted for almost one-third of all of Salus's investments. A regulatory filing last week showed that Salus had cut the risk rating on the deal to "substandard" in the fourth quarter and, as a result, was anticipating that more than 60 percent of its asset-based loans could incur losses.
Brian Ruby, a spokesman for Salus at Integrated Corporate Relations in Norwalk, Connecticut, said that the firm won't discuss the loan or its relationship with the retailer publicly.
"Salus will continue to engage with RadioShack and its other borrowers in a professional manner and to treat all such sensitive business dealings accordingly," Ruby wrote in a Jan. 31 e-mailed message. "Salus does not intend to discuss these matters via the media."
Merianne Roth, a spokeswoman at RadioShack in Fort Worth, Texas, declined to comment on its negotiations with Salus.
When the two sides inked the loan agreement in October 2013, RadioShack was desperate for money.
Online Competition
Grappling with competition from online retailers including Amazon.com Inc. as well as an evolving mobile-phone business that used to generate its highest profit margins, RadioShack's cash reserves would fall to $180 million by the end of 2013, marking an 80 percent drop over a four-year period, according to data compiled by Bloomberg.
The terms of the deal attest to RadioShack's woes. The five-year loan would pay an interest rate of 11.5 percent and be collateralized with the company's assets.
As word of the transaction made its way around the market, talks developed between Salus and investors potentially interested in buying part of the loan, the people said.
Yet for many investors, the idea of taking an 11.5 percent interest rate from a company whose benchmark bonds were already trading at a yield of about 16 percent -- regardless of whether the loan was collateralized -- was unattractive. (Those bonds today trade at a price of less than 20 cents on the dollar.)
Cerberus Capital
One New York private-equity firm, though, was intrigued by the loan: Stephen Feinberg's Cerberus Capital Management. The group, which specializes in investing in distressed assets, would take $100 million of the loan but, in return, it wanted the right to pick over RadioShack assets before Salus in the event of a default, the people said.
That was a problem because as part of the financing package, RadioShack was simultaneously cutting a $585 million deal with General Electric Co.'s lending unit that gave GE first priority on much of the company's key assets.
Salus would now be behind both creditors. Still, it was a chance to share some of the risk of the loan with another creditor. Salus said yes.
Chip Smith, a spokesman for Cerberus Capital at the Glover Park Group, declined to comment on the transaction.
Slump Persists
By that December, though, as the deal was nearing completion, executives at Salus were growing more concerned about RadioShack's slumping sales. On Dec. 7, a few days before RadioShack was scheduled to announce the loan package, Salus sent the retailer an e-mail saying that its continued operating struggles amounted to a material adverse change that would void the transaction, according to a person with knowledge of the matter.
RadioShack threatened to sue if Salus didn't honor the credit agreement, the person said. Salus disbursed the funds.
"It was expensive and it put a lot of debt on, but it gave the company a window" to try to turn around the business, Noel Hebert, an analyst at Bloomberg Intelligence, said in a telephone interview.
It was a lot of money for Salus too. Up until then, the firm's biggest deal had been an $82 million loan to Canadian apparel retailer Comark Inc. Salus, which means "safety" or "health" in Latin, was founded in 2011 as a unit of Harbinger Group Inc., specializing in loans to struggling retailers, according to its website.
James Hart, a spokesman at Harbinger, a holding company that also owns majority stakes in insurer Fidelity & Guaranty Life and consumer-products company Spectrum Brands Holdings Inc., didn't respond to telephone and e-mail messages seeking comment.
Store Closings
As RadioShack's sales kept slumping in 2014 under Chief Executive Officer Joe Magnacca, tensions with Salus built.
In March, the retailer presented creditors with a plan to close 1,100 stores and help preserve cash. All secured lenders needed to approve the plan, according to a May 8 regulatory filing by RadioShack.
The answer from Salus was no, the people said.
In Hebert's estimation, the firm's calculation was as simple as this: Fewer stores would mean fewer assets left to secure the loan, and that could reduce any recovery it would get in a bankruptcy reorganization.
Cash Evaporates
Meanwhile, the company's cash situation was worsening. By the start of November, it was down to $43 million in cash and equivalents after losing $161 million over the previous three months. It was the retailer's 11th straight quarterly loss.
RadioShack officials came back to Salus with several other proposals that would allow them to close stores and implement a turnaround plan, the people said. The retailer offered to pay Salus fees and use proceeds to pay down part of the loan.
Salus said no to them all.
Having run out of options, RadioShack filed for bankruptcy on Feb. 5. In its statement that afternoon, the retailer said many of its 4,000 locations would be sold to Sprint Corp. or go to Standard General, the hedge fund that is both a creditor, having acquired most of GE's $585 million loan, and the biggest shareholder.
Salus's actions show the firm's executives believe "it's better for the investment if RadioShack is in bankruptcy than out of bankruptcy," Hebert said.
They've now got their chance to find out.
(An earlier version of this story corrected the description of Harbinger Group in the 22nd paragraph.)
Before it's here, it's on the Bloomberg Terminal.
LEARN MORE