Verizon Sells Landlines, Towers in 2 Deals for $15.6 Billion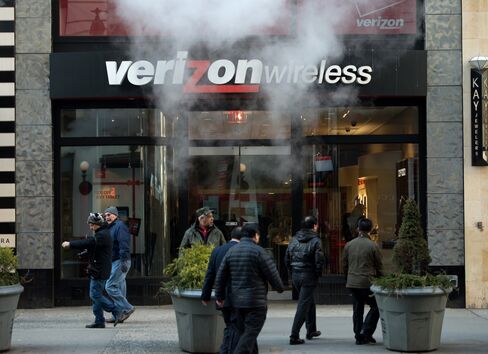 Verizon Communications Inc. agreed to sell landline assets and towers in two separate deals for a combined $15.6 billion, as the wireless carrier pays down debt and buys back shares after purchasing more airwaves.
Verizon is selling landline assets across California, Florida and Texas to Frontier Communications Corp. for $10.54 billion in cash. The assets include 3.7 million voice connections, 2.2 million broadband customers and 1.2 million FiOS TV subscribers, the companies said in a statement.
American Tower Corp. is buying rights to 11,324 wireless towers and purchasing about 165 more from Verizon for $5.056 billion in cash, according to a separate statement. Verizon will lease space on the towers for at least 10 years.
The asset sales will help New York-based Verizon pay for the more than $10 billion of airwaves it won last week in a record U.S. spectrum auction. Verizon will use proceeds to pay down debt and repurchase about $5 billion in stock. Verizon's debt and share count escalated last year with its $130 billion acquisition of Vodafone Group Plc's 45 percent stake in the U.S. mobile-phone unit.
The deal with American Tower is expected to close in the first half of 2015, while the Frontier transaction may be completed in the first half of next year.
Verizon shares rose as much as 1.1 percent to $48.41 in late trading. Frontier jumped as much as 14 percent, and American Tower added less than 1 percent in late trading in New York.
Verizon said that about 11,000 employees will move to Frontier. When the deal closes, Verizon will have reduced its landline territory to nine East Coast states and Washington, D.C. The remaining landline operation will have 16.1 million phone connections, 7 million high-speed Internet lines and 4.5 million FiOS TV subscribers.
Verizon was advised on the deal by Credit Suisse Group AG, Guggenheim Securities and PJT Partners.
Before it's here, it's on the Bloomberg Terminal.
LEARN MORE