Eric Vandercar, Morgan Stanley Veteran, Dies in Crash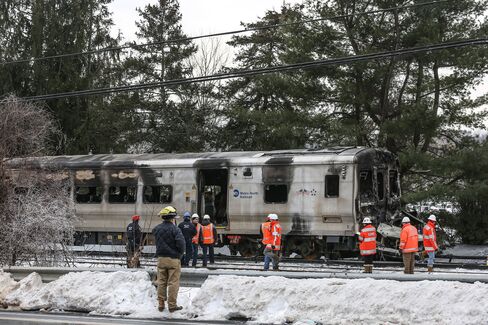 Eric Vandercar, who managed municipal funding during a 27-year career at Morgan Stanley before joining Mesirow Financial one year ago, was among the six people killed when a Metro-North Railroad train collided with a vehicle in Westchester County, New York. He was 53.
He lived with his family in Bedford Hills, New York, about 40 miles (64 kilometers) north of Grand Central Terminal, where the train departed.
Vandercar joined Mesirow's New York office in March as a senior managing director in institutional sales and trading and head of municipal funding, according to an e-mailed statement from Deborah Krieps, a managing director at the Chicago-based firm.
At Morgan Stanley, he was a municipal bond arbitrage trader and a municipal and treasury portfolio strategist before becoming manager of municipal funding and liquidity in 1989, according to his LinkedIn.com page.
At both firms, Vandercar's specialties included tender-option bond programs, which issue short-term securities, use the proceeds to buy longer-maturity local-government obligations, and profit from the difference in interest rates. According to his LinkedIn page, his recent work included making such bond programs compliant with the Volcker Rule.
"Eric was not only a pillar in our industry, he was a great partner and friend to many," Mesirow said. "Losing him is a huge loss, personally and professionally. Our entire Mesirow family is hurting and our deepest sympathies are extended to his wife, Jill, and their family."
'Tragic Loss'
Morgan Stanley, in an e-mailed statement, said, "Those of us who worked with Eric for many years at Morgan Stanley are deeply saddened by this tragic loss. Our hearts and prayers go out to his family at this difficult time."
Eric Matthew Vandercar was born on June 17, 1961, according to public records and LinkedIn.
He received bachelor degrees in applied science and economics from the University of Pennsylvania, in Philadelphia, in 1983, as part of its dual-degree Jerome Fisher Program in Management & Technology. He eanred his MBA from New York University's Leonard N. Stern School of Business in 1987.
Before Morgan Stanley, he worked at Donaldson Lufkin & Jenrette and Kidder Peabody in New York and at Comcast Corp. in Bala Cynwyd, Pennsylvania.
His interests included skiing, whitewater rafting and live music. One of the bands he followed, moe., released a statement calling him "a very good friend" who "will always be remembered -- whether he was enjoying the music from the front row, or hanging out backstage with us, chatting with that easy smile of his."
He had a son and a daughter with his wife, Jill.
Before it's here, it's on the Bloomberg Terminal.
LEARN MORE