Gates Donates $1.5 Billion of Microsoft Stock, Stake Now 3%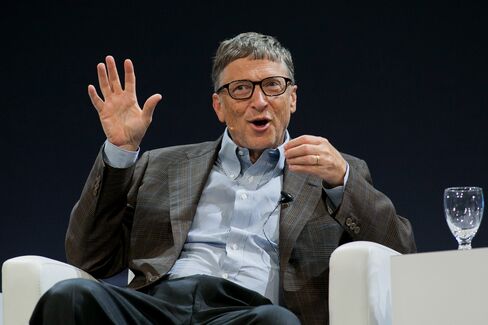 Bill Gates gave $1.5 billion of Microsoft Corp. stock in November to the Gates Foundation Asset Trust, the entity that manages the foundation's endowment, according to Amy Enright, a spokeswoman for the foundation.
The world's richest man donated 31 million shares of the world's biggest software maker, according to a Jan. 30 filing with the U.S. Securities and Exchange Commission. The transfer decreased his stake in the company he co-founded to 3 percent. Gates has a net worth of $82.9 billion, according to the Bloomberg Billionaires Index.
Gavi, The Vaccine Alliance, the world's biggest funder of vaccines for developing countries, announced Jan. 27 that it had received $7.5 billion in new pledges, including $1.55 billion from the Bill & Melinda Gates foundation.
The recent pledge to Gavi isn't related to the SEC filing, according to Wendy Walker, a spokeswoman at the Gates foundation.
Gates historically has directed his philanthropic efforts through the organization, which works to fight polio, AIDS, tuberculosis and malaria, and strengthen health systems in developing countries, among other efforts. It donated $50 million in emergency funding to fight Ebola in West Africa in September.
The foundation had $42.3 billion in assets and had distributed $31.6 billion in grants through September, according to its website.
The billionaire said last month at the World Economic Forum in Davos, Switzerland, that he expects a pair of advances by 2030 that will eliminate most of the damage from AIDS, the global epidemic that has killed more than 36 million people.
"We won't see the end of AIDS," Gates said at the conference. "But, both for malaria and AIDS, we're seeing that the tools that let us do a 95 percent to 100 percent reduction, those tools will be invented during this 15-year period."
Before it's here, it's on the Bloomberg Terminal.
LEARN MORE