China Easing Seen as Just the Start by Ammunition-Rich PBOC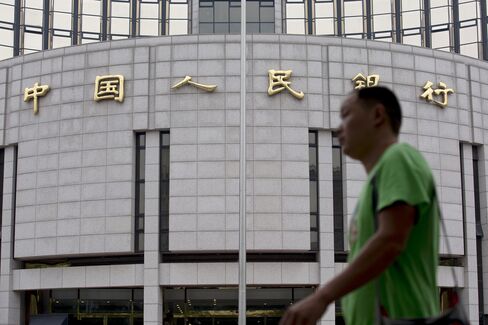 China's latest move in the global monetary-easing game may be just the start.
Economists from Deutsche Bank AG, Bank of America Corp. and Nomura Holdings Inc. are among those forecasting more cuts to reserve requirements and benchmark interest rates after the People's Bank of China said Wednesday it's lowering lenders' reserve ratio by 50 basis points. That move may inject about 600 billion yuan ($96 billion) into the economy.
Unlike its biggest peers, the PBOC has plenty more ammunition. Even after the reduction, China's biggest banks will still have to keep 19.5 percent of deposits locked up. The one-year lending rate is 5.6 percent -- a long way from the zero bound that forced the Federal Reserve, Bank of Japan and now the European Central Bank into quantitative easing.
"China is an economy that has the capacity" to act, said Karen Ward, a global economist at HSBC Holdings Plc in London. In addition to being far from zero interest rates, the nation has a relatively low level of sovereign debt, Ward said.
Capital outflows, depreciation pressure on the yuan, deflation risks and a deepening economic slowdown are among reasons analysts cited for Wednesday's reserve-ratio reduction, which adds capacity for banks to lend. It's a combination that may need more than one pill to fix.
"The impact on the real economy is positive but it is not enough to stabilize the economy," as demand for loans may fail to match the expanded supply, said Zhang Zhiwei, chief China economist at Deutsche Bank in Hong Kong. "A more proactive fiscal policy is necessary to boost final demand."
'Downside Risks'
He forecasts another 50 basis-point reduction in the reserve ratio next quarter, along with interest-rate cuts in March and the April-June period. Without looser fiscal policies, there are "downside risks" to Deutsche Bank's forecast of 7 percent gross domestic product growth in 2015, he said. One basis point is equal to 0.01 percentage point.
Chinese bank stocks rallied in Hong Kong and Shanghai trading Thursday. The yuan weakened against the U.S. dollar.
A look at the PBOC's history should encourage those forecasting more monetary stimulus. The last two easing cycles both saw three cuts in reserve requirements for major banks. Such moves are also usually accompanied by lower interest rates.
Even a 19.5 percent reserve requirement means about 22 trillion yuan are locked up. China's deposits totaled 114 trillion yuan at the end of last year.
The current level is still high compared with historical standards. The ratio was at 6 percent from 1999 to 2003. Then came a five-year tightening cycle to stem inflation, lifting the rate to 17.5 percent for major banks. Another round of increases started in 2010, leading to a 21.5 percent peak.
Property Drag
Wang Tao, chief China economist at UBS Group AG in Hong Kong, doesn't expect the reserve-ratio cut to translate automatically into faster credit demand.
"If the government is worried about growth, it needs to step up fiscal spending and ease property policies," she said.
China's fiscal revenue increased the least since 1991 last year, as a property slump and declining factory profits weighed on the tax base. Land sales also moderated, deepening the slowdown in government receipts.
"Despite policy easing, we expect growth to continue to slow because of deep-rooted domestic challenges such as the property market correction, tighter controls over local government debt and deleveraging," said Hua Changchun, a China economist at Nomura Holdings in Hong Kong.
Nomura maintained its view that policy will probably be eased further in the second quarter, including another half percentage-point reserve-ratio cut and a quarter-point reduction in interest rates.
Global Easing
The PBOC joins more than a dozen global counterparts in easing monetary policy this year as tumbling commodity prices provide scope to support growth. While Premier Li Keqiang told global business leaders last month not to worry about weakening Chinese growth, Wednesday's step signals policy makers are concerned the slowdown has yet to reach bottom.
China confronts a global outlook marred by renewed uncertainty in Europe. The European Central Bank on Wednesday restricted loans to Greece's financial system, raising pressure on the new government to yield to German-led austerity demands to stay in the euro zone.
The PBOC lowered benchmark interest rates in November for the first time since July 2012. The reserve-ratio reduction, the first across-the-board cut since May 2012, will inject as much as 600 billion yuan into the banking system, Australia & New Zealand Banking Group Ltd. economists estimate.
More Needed
"Further monetary policy easing by the PBOC is still required," said Liu Li-Gang, ANZ's chief Greater China economist in Hong Kong. He expects another two 50 basis-point cuts this year.
Weighed down by a property slump and overcapacity, China saw the biggest outflow of capital since at least 1998 last quarter. With money headed out of the country, the reserve-ratio cut is aimed at preserving the liquidity status quo.
Such reductions are "merely used to provide a normal pace of base money supply," said Lu Ting, Bank of America's head of Greater China economics in Hong Kong. "Though markets will acclaim that the cut is a major easing measure, the cut itself is not a big stimulus."