Valeant Weighs Takeover of Salix in Latest Pharma Contest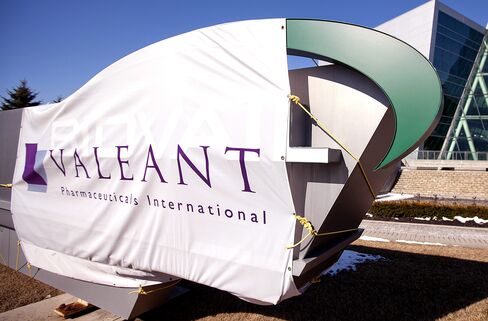 Valeant Pharmaceuticals International Inc. is exploring a takeover of Salix Pharmaceuticals Ltd., people with knowledge of the matter said, in the wake of the U.S. drugmaker's recent inventory-accounting restatement and management shakeup.
The Canadian drugmaker has discussed its interest with advisers, said the people, who asked not to be identified because the talks are private. Salix has a market value of about $9 billion, after its shares rose 5 percent to $140.47 in New York trading.
Valeant, which lost a takeover contest for Allergan Inc. last year, is wary of paying too high a price for Salix and may not reach a deal as a result, one of the people said. The company could fetch more than $170 a share in a takeover, Sterne Agee Group analyst Shibani Malhotra wrote in Feb. 3 note to clients.
Valeant could also face rivals for Salix, which makes drugs to treat ulcerative colitis and travelers' diarrhea and is nearing approval for a potential irritable bowel syndrome treatment. Shire Plc is also interested in Salix, two people said, and the company was targeted by other buyers last year,
Valeant fell 1.4 percent to $159.71. Shire's American depositary receipts climbed 2.4 percent to $227.41.
Representatives for Valeant, Salix and Shire declined to comment.
Expanded Offerings
Valeant has used acquisitions such as the $8.7 billion purchase of eye-care company Bausch & Lomb Inc. in 2013 and the $2.6 billion takeover of skin-care product maker Medicis to plug a wider range of offerings into its distribution network, helping squeeze out costs. Last week, the company emerged with the lead offer for the assets of Dendreon Corp. a bankrupt developer of a drug for advanced prostate cancer.
Salix's market value has tumbled from an all-time high of $11 billion last September. The company disclosed in November that wholesalers had accumulated too much inventory of two drugs, and replaced its chief financial officer. Salix said last week that it will restate its financial statements for 2013 and most of 2014.
The restatement puts an end to uncertainty that had stymied an earlier attempt to acquire Salix, and may lure other potential bidders. Shares of Salix rose 7 percent last week, in part as the restatement sparked speculation that buyers would emerge.
Last year, both Allergan and Actavis Plc were considering bidding for the Raleigh, North Carolina-based company. Allergan, which later backed away from a deal with Salix in part because due diligence revealed the problems, according to a person with knowledge of the matter, was later acquired by Actavis in a $67 billion deal.
After conducting a review of how inventory of top drugs built up with wholesalers, Salix will lower its reported revenue for 2013 and the first three quarters of 2014 by $20.7 million, and reduce net income over the same period by $11.9 million, the company said last week.
Before it's here, it's on the Bloomberg Terminal.
LEARN MORE