Shell, USW Resume Talks Amid Biggest Oil Strike in 35 Years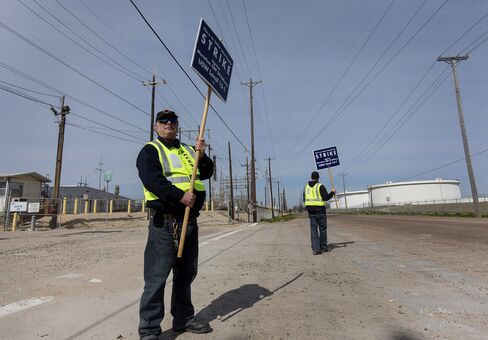 Royal Dutch Shell Plc and United Steelworkers leaders met on Tuesday to discuss a new three-year labor contract as U.S. oil workers extended the biggest refinery strike since 1980 into a third day.
Shell, negotiating the contract on behalf of oil companies, and the United Steelworkers resumed talks on Tuesday after an initial meeting late Monday, company and union spokesmen said. The USW, representing employees at more than 200 refineries, terminals, pipelines and chemical plants, began a strike at nine sites on Sunday after negotiations broke down.
The plants on strike account for 10 percent of U.S. refinery capacity. One site has curbed production and a full walkout of USW workers would threaten to disrupt as much as 64 percent of U.S. fuel output. Union leaders haven't called a strike nationally since 1980, when a stoppage lasted three months. Shell and union officials began negotiations on Jan. 21 amid the biggest collapse in oil prices since 2008.
"There's no guarantee that if we can't get back to bargaining we won't increase the number of refineries" on strike, USW international president Leo Gerard said in a phone interview from Pittsburgh on Monday. All nine sites remain on strike, Lynne Hancock, a USW spokeswoman in Nashville, Tennessee, said by phone on Tuesday.
Offer Rejections
The union has rejected five offers made by Shell on behalf of companies including Exxon Mobil Corp. and Chevron Corp.
The USW has been asking employers for better health-care benefits and measures to prevent fatigue and keep union workers rather than contract employees on the job, Gerard said. The company refused to discuss lowering the $7,500 that workers must pay annually before health insurance kicks in 100 percent, known as the out-of-pocket maximum, he said.
Fisher said in an e-mailed response late Monday that Shell is "committed to providing competitive pay and benefits."
The refineries on strike can produce 1.82 million barrels of fuel a day, data compiled by Bloomberg show. They span the U.S., from Tesoro's plants in Martinez and Carson, California; and Anacortes, Washington, to Marathon Petroleum Corp.'s Catlettsburg complex in Kentucky to three sites in Texas, according to the USW's statement.
U.S. benchmark West Texas Intermediate oil jumped $3.48 a barrel to settle at $53.05 a barrel Tuesday on the New York Mercantile Exchange. Gasoline for March delivery added 5.67 cents to $1.6013 a gallon, and the diesel contract for the same month gained 8.9 cents to $1.8465.
Contingency Plans
In Texas, Shell's Deer Park complex, Marathon's Galveston Bay plant and LyondellBasell Industries NV's Houston facility are affected, according to the union.
United Steelworkers members do everything from operating units to performing maintenance to testing and analyzing samples in labs at U.S. refineries, Hancock said by phone Monday.
Lyondell, Marathon, Shell and Tesoro have contingency plans in place to keep refineries operating, company statements show. The walkout also includes Marathon's Houston Green cogeneration plant in Texas and Shell's Deer Park chemical plant.
Tesoro said on Tuesday that it was shutting process units at the Golden Eagle refinery near Martinez, California, since half of its processing capacity was already offline for maintenance. Its Anacortes and Carson refineries are operating, Tina Barbee, a spokeswoman at the company's headquarters in San Antonio, said by e-mail.
Remaining USW-represented sites are operating under rolling, 24-hour contract extensions, according to the union.