RBA Cuts Cash Rate to Record Low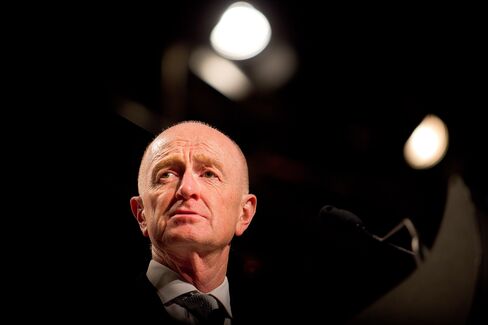 The Reserve Bank of Australia unexpectedly cut its benchmark interest rate to a new record low and said the local currency remains overvalued, joining a dozen global counterparts in easing this year as commodity prices tumble.
The overnight cash rate target was lowered by 25 basis points to 2.25 percent, Governor Glenn Stevens said in a statement Tuesday. Growth will be weaker for longer and the jobless rate peak higher than earlier expected, he said.
Stocks surged to an almost seven-year high, the currency traded at a more than 5 1/2-year low and bond yields dropped to records. Stevens's move follows a collapse in the price of iron ore, which generates A$1 in every A$5 of export income, and a rush to ease among global policy makers that had threatened to drive Australia's currency higher.
"The global monetary policy changes over the past month have raised the degree of difficulty in getting the Aussie dollar down," said James McIntyre, head of economic research in Sydney at Macquarie Bank Ltd., who picked today's move. "The RBA has reached the conclusion that it's going to have to step up and give the currency a push to get the weakness desired. We think there's at least one more cut to come."
The benchmark S&P/ASX 200 Index extended gains after the decision, ending the day 1.5 percent higher at 5,707.4, the highest close since May 2008. The currency fell more than 2 percent after the decision to its lowest since 2009 and traded at 76.32 cents at 6:52 p.m. in Sydney.
Overvalued Aussie
The Australian dollar "remains above most estimates of its fundamental value, particularly given the significant declines in key commodity prices," Stevens said today. "A lower exchange rate is likely to be needed to achieve balanced growth in the economy."
"Output growth will probably remain a little below trend for somewhat longer, and the rate of unemployment peak a little higher, than earlier expected," he said.
The RBA last reduced rates 18 months ago, the time it generally takes for stimulus to make its way through the economy, suggesting there was little remaining in the pipeline.
Traders are pricing in a 70 percent chance the RBA will cut rates by another quarter point at the March meeting, according to swaps data compiled by Bloomberg.
"We obviously live in a low-interest world," Australian Treasurer Joe Hockey told reporters in Canberra after the decision. "The majority of our trading partners, apart from China, have virtually zero interest rates. So the Reserve Bank does have more room to move."
Indian central bank Governor Raghuram Rajan left rates unchanged Tuesday, three weeks after an unscheduled cut, signaling he wants to see Prime Minister Narendra Modi's first full-year budget before easing further.
Banks Review Rates
National Australia Bank Ltd., Westpac Banking Corp. and Commonwealth Bank of Australia said they are reviewing their mortgage rates. Australia & New Zealand Banking Group Ltd. said it will decide on its interest rates by Friday.
Today's Australian decision was predicted by just seven of 29 economists surveyed by Bloomberg News, with the remainder forecasting no change. Markets priced in about a 60 percent chance of a cut.
Iron ore reached the lowest since at least 2009 last week amid signs the bear market that began last year has further to run with China's steel mills curtailing output before a national holiday and major producers including Melbourne-based BHP Billiton Ltd. adding supply.
A Chinese manufacturing gauge unexpectedly signaled contraction in January for the first time in more than two years, an official report showed two days ago.
Housing Risks
One potential concern for policy makers is that further stimulus risks inflating a house price bubble. The Corelogic-RP Data home value index, released Monday, showed Sydney home prices rose 13 percent in January from a year earlier. Home loans to investors also climbed to a record 50.4 percent of all mortgages in October.
"The bank is working with other regulators to assess and contain economic risks that may arise from the housing market," Stevens said today.
Employment data released Jan. 15 also showed Australia boosted hiring in November and December by the most in any two-month period in eight years. The jobless rate dropped to 6.1 percent in December.
"In Australia the available information suggests that growth is continuing at a below-trend pace, with domestic demand growth overall quite weak," Stevens said.
Rate Ammo
Australia is a developed-world rarity in that almost 24 years of growth leave it with rate ammunition, while policy makers from Tokyo to Frankfurt undertake quantitative easing to reflate their economies. Today's cut also aims to put a ceiling above a currency that has dropped almost 12 percent in the past three months, the worst performing major currency.
"The RBA is clearly positioning to downgrade economic growth in both the nearer term and the medium term in addition to reaffirming its view that the weaker Australian dollar is providing few risks to the inflation outlook," Goldman Sachs Group Inc. economists led by Tim Toohey said in a research note. The central bank will release its updated quarterly inflation and growth forecasts on Feb. 6.
Mirroring Canada
The impact of falling commodity prices on RBA policy mirrors a plunge in oil for Canada, which unexpectedly cut rates in January, and milk in New Zealand, where policy makers abandoned a tightening bias.
Norges Bank in December delivered a surprise rate cut, along with a warning of a 50-50 chance of another cut this year as the economy of western Europe's biggest oil exporter struggles. Brent crude will need to trade above $70 a barrel before pressure on monetary policy abates, Governor Oeystein Olsen said in a December interview.
The drop in energy prices also threatens Australia.
The first of seven liquefied natural-gas developments began shipments last month, putting the nation on course to surpass Qatar later this decade as the world's biggest exporter of the fuel. Origin Energy Ltd., the Australian company building a natural gas export plant with ConocoPhillips, is looking at deferring proposed oil and gas projects following a decline in crude prices, it said in December.
Before it's here, it's on the Bloomberg Terminal.
LEARN MORE