Greek Retreat on Writedown May Move Fight to Spending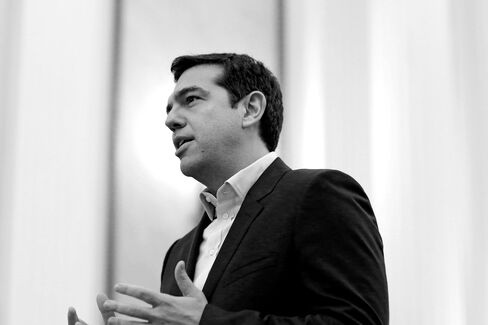 Greece's retreat from its call for a debt writedown may shift attention to the second front in Prime Minister Alexis Tsipras's conflict with euro-area leaders: his desire to increase spending and roll back austerity.
Tsipras won election Jan. 25 on promises to raise wages and pensions, end public-sector firings and stop state asset sales - - all policies that would breach the conditions on the bailout aid. He also advocated a writedown, a policy dropped late Monday in favor of a debt exchange amid virtually unanimous opposition in the euro area.
"Reality is about to bite: Tsipras will realize that the constraints are very tight," Kevin Featherstone, professor of contemporary Greek studies at the London School of Economics, said in an e-mail. "It seems certain that the euro zone will insist on Greece committing itself to continued structural reform."
Greek stocks and bonds rallied after Finance Minister Yanis Varoufakis outlined plans to swap some Greek debt owned by the European Central Bank and the European Financial Stability Facility for the new securities. He indicated that the move would allow Greece to avoid imposing a formal haircut on creditors, according to a person who attended the meeting and asked not to be identified because they weren't authorized to speak publicly.
'No U-turn'
"Debt will be rendered sustainable, even if we replace haircut with euphemisms and swaps," Varoufakis tweeted from his personal account. "No U-turn!"
The yield on 10-year notes fell 104 basis points to 9.9 percent at 2:15 p.m. in Athens. The benchmark stock index surged 8.8 percent.
Tsipras and Varoufakis are touring European capitals this week seeking allies in their anti-austerity campaign. They're due in Rome on Tuesday and Tsipras is also scheduled to visit Brussels and Paris.
They'll have to overcome to moving away from commitments to limit spending and increase economic competitiveness in exchange for 240 billion euros ($272 billion) in aid commitments since 2010.
"We're not going to change everything because of one electoral result that some people may like and some people don't like," European Commission President Jean-Claude Juncker said today at the European Parliament in Brussels.
Greece's economy has shrunk by about a quarter since the outbreak of the crisis in 2009 and more than 25 percent of the workforce is without a job.
Deposit Flight
Banks lost at least 11 billion euros in deposits in January, according to four bankers who asked not to be identified because the data were preliminary. The outflow accelerated from about 4 billion euros in December. Total deposits were 160.3 billion euros at the end of 2014.
Tsipras issued a conciliatory statement on Jan. 31, promising to abide by financial obligations, after Varoufakis said the country won't take more aid under its current bailout and wanted a new deal by the end of May. Before his appointment as finance minister, he had called for Greece to default on its debt while remaining in the euro.
The premier's comment led to a rebound in Greek stocks and bonds on Monday.
"The middle ground was always much more attainable than the body language last week," Hans Humes, founder of Greylock Capital Management LLC, which owns Greek debt and equity, told Bloomberg Television on Monday.
Swap Outlined
The plan outlined by Varoufakis in London days after the government hired Lazard Ltd. as an adviser would leave Greek debt to the International Monetary Fund and the private sector intact.
The swap proposal is "a constructive option to improve debt sustainability, which will ultimately foster a return to economic growth," the president of Germany's DIW economic institute, Marcel Fratzscher, said in an e-mail.
Euro-region governments and the crisis-fighting fund they set up in 2010 are owed almost 195 billion euros by Greece, mostly in emergency loans. That's about 62 percent of the total debt and compares with 17 percent held by private investors.
The possibilites for the debt swap include securities indexed to nominal economic growth to replace European rescue loans, and "perpetual bonds" to exchange for ECB-owned debt, he told the Financial Times.
The invitation-only event at the Four Seasons Hotel on Park Lane, scheduled to last an hour, overran by 90 minutes as Varoufakis took time after his speech to speak with investors and bankers individually.
"They're looking to restructure EU bilateral loans and ECB loans and leave IMF and private-sector debt alone," said Sarah Hewin, head of research at Standard Chartered Plc, who was at the meeting. "At the moment, they're working at a broad case without being specific on how this restructuring will take place."
Before it's here, it's on the Bloomberg Terminal.
LEARN MORE