Obama Wants Same-Sex Couples to Have Spousal Benefits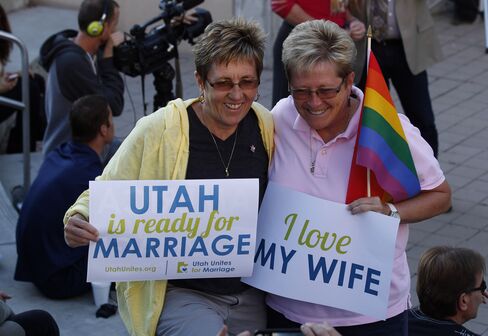 President Barack Obama's $4 trillion budget proposal includes a major change to the Social Security Act that would allow same-sex couples to receive spousal benefits even if they live in states that don't recognize such unions.
Under current law, gay couples who move from one of the 36 states that permit same-sex marriage to one that does not lose the Social Security benefits heterosexual couples enjoy. "Under this proposal, such married couples would have access to these benefits," according to the budget.
It's the first time Obama has suggested such a change, though he stated his personal support for gay marriage in 2012. Last year, the president went further, telling the New Yorker's Jeffery Toobin that he believes the Equal Protection Clause in the U.S. Constitution "does guarantee" same-sex marriage in all 50 states.
The proposal in his budget would have to be passed by a Republican-led Congress that is deeply divided on gay marriage, stirring debate that would put the issue in the forefront as the party is trying to select a 2016 presidential candidate. Social conservatives staunchly oppose such unions, while the libertarian wing prefers the issue be left up to states. Many of the party's most generous donors, including energy executive David Koch and hedge fund founder Paul Singer, support gay marriage.
Public Support
Americans' views on same-sex marriage have changed rapidly in the past decade, with 52 percent of respondents favoring gay marriages in a September 2014 poll by the Pew Research Center. That's up from 31 percent supporting the policy in 2004.
Younger voters -- those born after 1981 -- overwhelmingly support gay marriage with 67 percent approving of it, according to the Pew survey.
The U.S. Supreme Court last month agreed to consider legalizing same-sex marriage nationwide, accepting a case that could be a landmark civil rights ruling and make the president's proposal moot. The court's decision, likely to come in late June, could bring gay marriage to all 50 states.
The Obama proposal, which would cost about $14 billion over ten years, is part of a wider plan that would raise taxes for the nation's wealthiest earners to fund new spending on education and infrastructure.
Before it's here, it's on the Bloomberg Terminal.
LEARN MORE