MBAs Are Shunning Industries That Create Jobs
Industries that treat American workers relatively well tend to get short shrift from MBAs, who seek higher salaries in sexier fields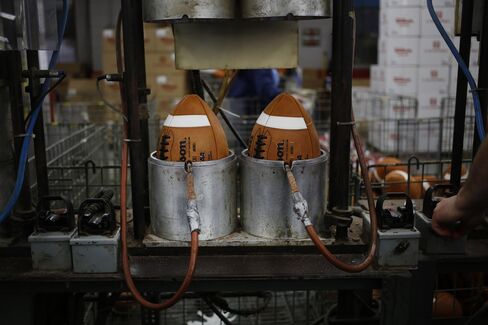 Manufacturing is like the boyfriend America will finally settle down with: It may not be the sexiest industry, but it sure is dependable.
The field generates one in five jobs in the U.S., including 12 million in manufacturing, and another 17 million in areas supported by manufacturing, according to a recent report from the Economic Policy Institute. The industry is also particularly good at creating more lucrative jobs for less-educated Americans. The average manufacturing worker without a college degree earns $1.78 more each hour than in other sectors, according to the report, which looked at American Community Survey data.
Yet business schools, a breeding ground for the next crop of chief executives, are churning out a minuscule number of graduates who want to make their money in manufacturing. Just 4 percent of all MBAs who graduated last year took jobs in the industry, according to a Bloomberg Businessweek survey of close to 10,000 students conducted as a part of the 2014 ranking of business schools. Compare that to consulting, which drew almost 25 percent of those who got an MBA in 2014, or banking, where 19 percent of graduates landed.
Business schools are also not producing leaders in fields projected to support the largest growth in jobs for Americans. Just 4 percent of MBAs went into health care, and less than 1 percent were employed in construction, both expected to benefit from 2.6 percent job growth from 2012-2022, according to the Bureau of Labor Statistics. Education, set for a 2 percent job growth in the near future, took in only 1 percent of all MBAs minted last year.
Graduate salaries might have something to do with it.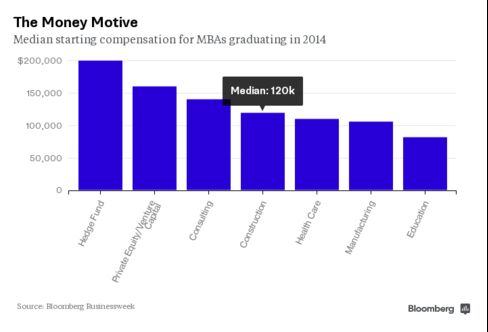 The median starting compensation for MBAs who were offered positions in manufacturing was $106,000, well under the $120,000 median package for all graduates. Health care and education also came with relatively paltry paychecks—$110,000 and $82,000, respectively. Construction jobs were more lucrative, offering compensation at the overall median. The fattest paychecks were awarded to MBAs headed for hedge funds which on average paid $200,000 out of school, and those hired by private-equity or venture capital firms, which paid $160,000. These differences matter to students, who spend around $100,000 in tuition at a top school while forgoing two years in the workforce.
It also may be the case that blue collar industries such as manufacturing or construction simply don't appeal to MBAs as much as, say, a shiny new gig in consulting, private equity, or—swoon—entrepreneurship.
"There is a bias," says Hal Sirkin, a senior partner at the Boston Consulting Group and professor at Northwestern's Kellogg School of Management. "There's an image that manufacturing is backbreaking work for the workforce."
The notion that factory work is "dirty" is misguided for two reasons, Sirkin says. First, thanks to automation, factory workers are doing more specialized jobs that are no longer so physically strenuous. Second, MBAs are not the ones slated to tend machines, anyway; they'll be in offices, plotting company strategy. Per BCG projections, manufacturing will generate up to 5 million jobs by 2020.
Companies that once sent goods abroad for cheap production are noting rising costs, particularly in China, and are increasingly looking to make their gizmos at home, Sirkin says. Perhaps the trend will convince more MBAs to build careers in manufacturing.
Before it's here, it's on the Bloomberg Terminal.
LEARN MORE